With the support of WeChat, the Hong Kong Committee for UNICEF (UNICEF HK) introduces a new payment channel to support world emergency relief work via WeChat's advanced Payment Platform. This innovative partnership will enable donors to make contributions to emergency relief efforts on their smartphones simply and efficiently.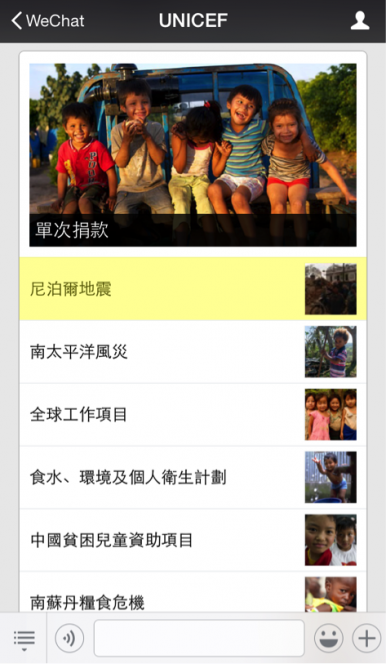 The new WeChat donation function supports UNICEF's recent initiatives, such as the Cyclone Pam situation in Vanuatu, the ongoing Syria crisis and the recent Nepal Earthquake. By improving fundraising efficiency, WeChat and UNICEF are empowering millennials to become more involved in relief work and to give back to the global community.
"Social media is now indispensable for youth. The introduction of WeChat Payment will help cultivate support for UNICEF HK from youngsters and provide a more convenient and effective channel for public donations, supporting UNICEF's humanitarian relief work," said Mr. David Fong, Chairman of the Fundraising Committee of UNICEF HK.
Read More WeChat Empowers UNICEF HK with New Mobile Payment Platform >>