Singapore celebrations have already begun in anticipation of the nation's 50th birthday on August 9, 2015. And do we have a treat for you! WeChat is bringing Ang Ku Kueh Girl (AKKG) stickers straight to WeChat.
Wang Shijia, the designer of the AKKG stickers, was inspired to create AKKG from the traditional Singaporean snack Ang Ku Kueh, or red tortoise cake, a soft sticky glutinous rice pastry wrapped around a sweet center.
The stickers are meant to spread the beauty of Singapore's local heritage and culture through universal values such as love, kindness, tenacity and gumption.
.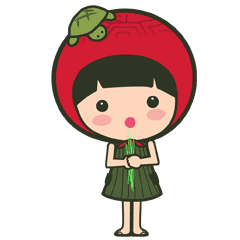 Read More Singapore Turns 50 – Celebrate with WeChat's Ang Ku Kueh Girl Stickers >>