GlobalWebIndex, a market research company that conducts the world's largest multi-market research study on online consumer behaviors and trends, covering 32 markets and representing 89% of the global internet audience, published the following blog post about 2014 mobile trends and how WeChat stacks up in the mobile messaging arena.  We are sharing for our readers, hope you enjoy! 
In the world of digital, 2014 has been the year of the mobile messaging app. From market to market, we've seen conversations migrating away from the big social networks and SMS/MMS services as more and more people carry out their conversations via dedicated mobile messaging tools. As a result, the numbers using mobile chat services have been seeing strong quarter-on-quarter increases – with the total global audience growing by 40% since the start of 2013.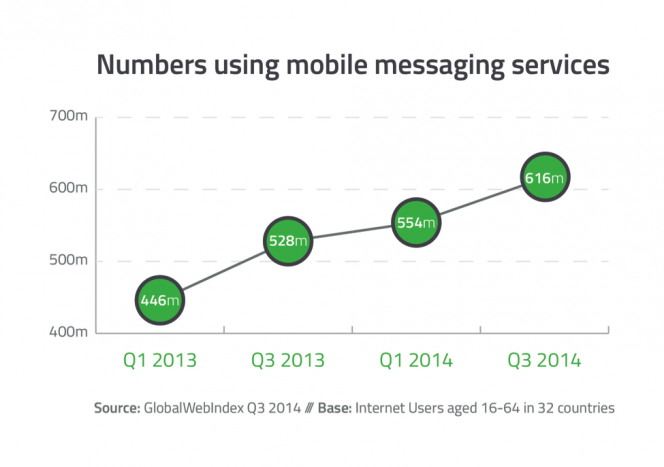 The reasons behind the explosion of mobile chat tools are pretty clear to see. Firstly, smartphones have quickly established themselves as an integral part of our daily routines and communication behaviors; globally, 80% of online adults now own a smartphone and three quarters say that they are regularly using the mobile internet. Secondly, and just as significantly, internet users value the fact the messaging apps are free (45%), quick/easy to use (41%), private (29%) and fun (27%). With people no longer wanting to share everything with everyone on social networks, mobile messaging apps have become the ideal place for both one-to-one and group conversations.
As this has been happening, we've witnessed a string of high-profile acquisitions as well as the launch of numerous new features and functionalities. But as we approach the midway point of the current decade, what does the mobile messaging landscape actually look like? With GlobalWebIndex's data allowing all messaging apps to be tracked in a comparable away across 32 different countries, which service is in pole position?