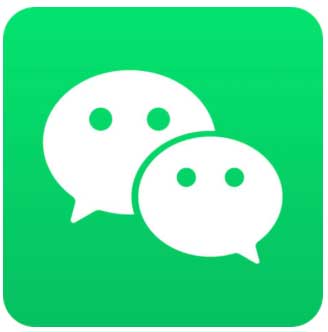 WeChat v7.0 with a fresh new logo
WeChat is celebrated it's 8th anniversary
this month. Every day over one billion people
log in to WeChat as it
delivers seamless communications service and provides new ways to share and connect with friends.
Download the latest version, WeChat v7.0 for
Android
and
iOS
now and try out all these
new features:
Redesigned Look & Feel

Time Capsule

Chat Alerts

Selfie Stickers

"Wow"

F

eature in Top Stories
1. Redesigned Look & Feel
WeChat has been redesigned to be
lighter and brighter so you can concentrate on the messages and features that are important to you. Aside from a lighter colored WeChat logo (above), we've redesigned the icons for all of WeChat's features,
changed
to a simpler and lighter color palette, and adjusted the spacing for things like chat bubbles and menus to make WeChat easier to read.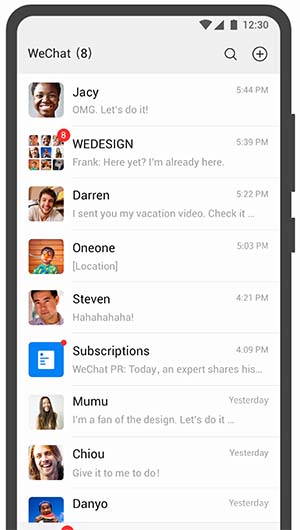 2. Time Capsule
Sharing your life with your phone's camera has never been so easy. Just go to "Me" and tap the camera icon in the upper-right corner to add to your Time Capsule. Use your camera to capture your pet's tricks, an awesome basketball shot
, or any of life's little tidbits. After recording a video, you can decorate it with text, stickers, or even background music.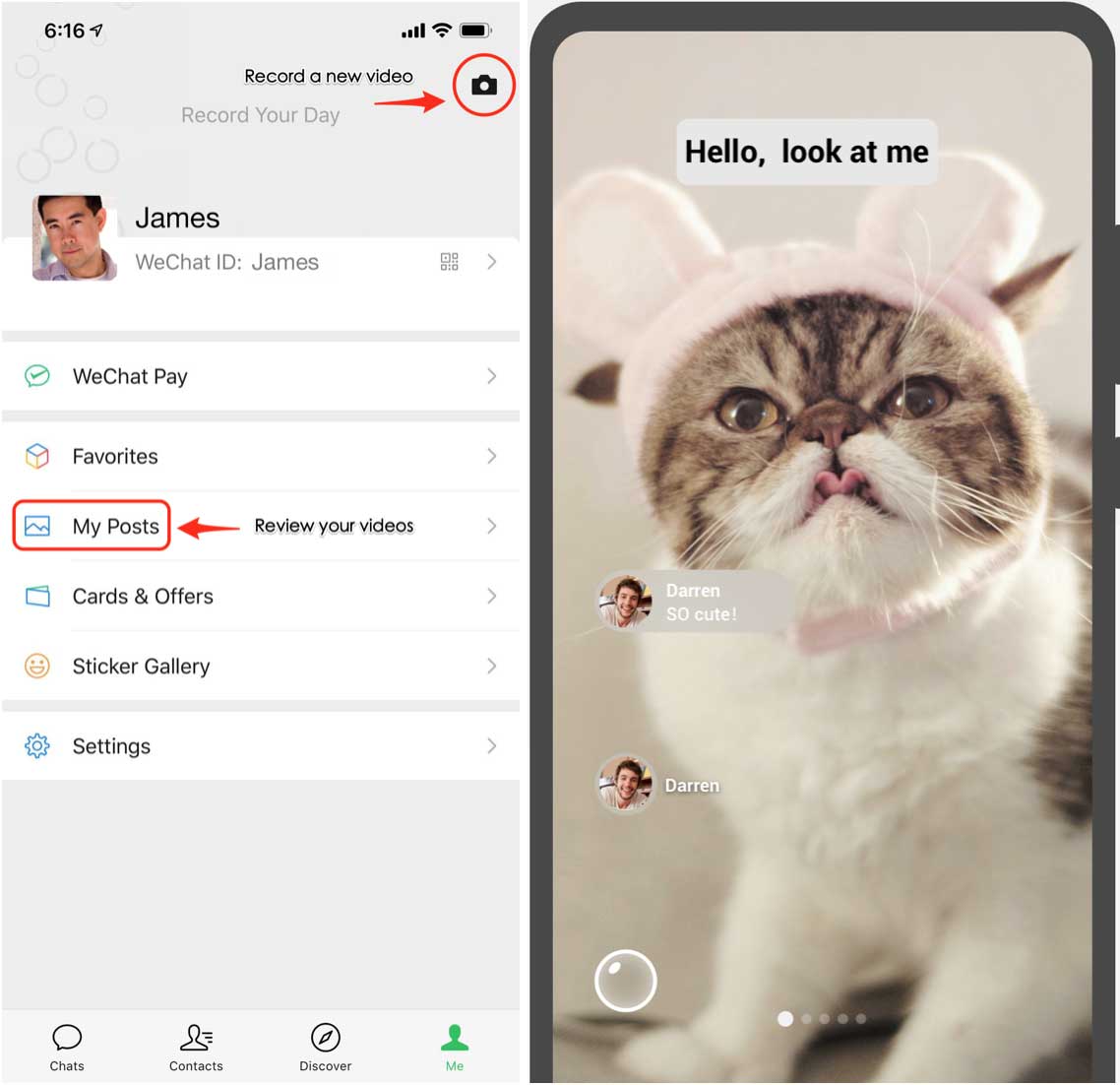 Once your Time Capsule video
is completed, it
can be viewed for 24 hours by
your friends
. Likewise, you
can
find your friends' recent videos when you see
a "
blue circle
"
next to
their
profile photos
in chats
. Double-tap the
ir
profile photo to view their Time Capsule video
s
.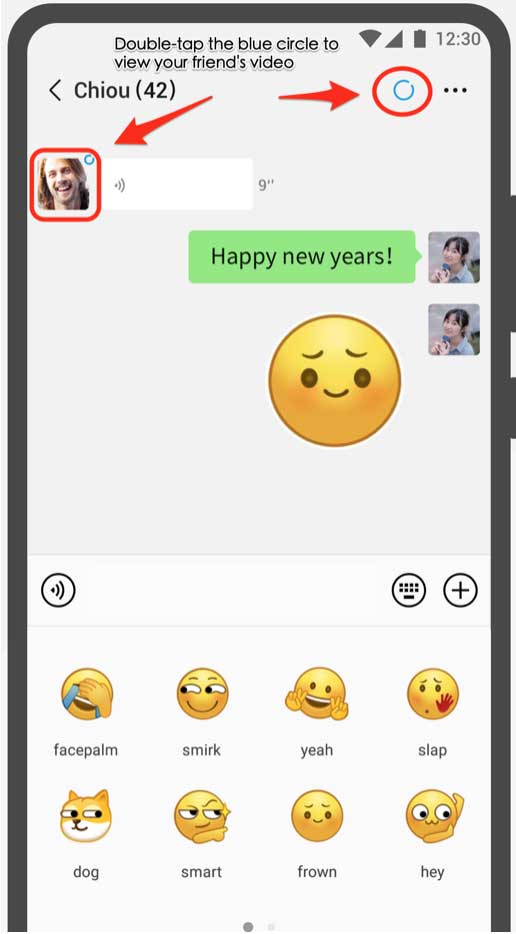 As you collect these videos over time, you'll be able to revisit old memories by going to "
Me
"
->
"
My Posts
"
-> and tapping
"
Time Capsule
"
to see the old Time Capsule videos that you captured
. These old posts
are only
visible to you
.
3. Chat Alerts
This new feature ensures you know when you receive that important message from your friend, significant other, or business associate when time is of the essence. If there is a chat that is particularly urgent, you may configure a Chat Alert by tapping the "…" menu in the upper-right corner of the chat screen and enabling "Chat Alert". For the next three hours, you will receive a special alert when you next receive a message in this chat. Your phone will vibrate and a fullscreen alert will notify you of your new important message.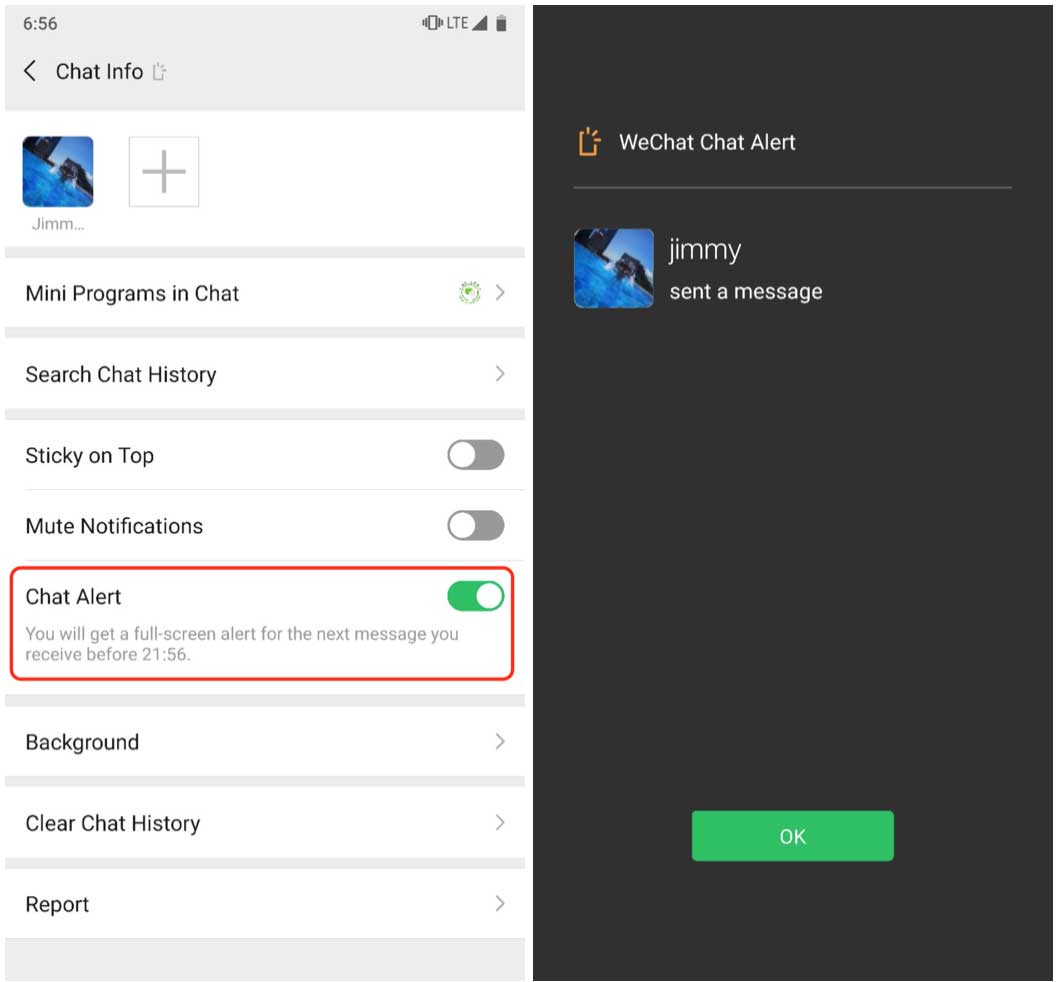 Use Chat Alerts to make sure that urgent
messages receive your special attention.
4. Selfie Stickers
In WeChat v6.7.4, we launched Selfie Stickers as a way to express your inner emotions in a fun and colorful way. Users responded by creating millions of their own, customized stickers. Due to popular demand, we've made it easier to find Selfie Stickers. Just tap the "Stickers" button in the chat bar and tap the "Selfie Stickers" tab in the stickers bar.
Create your own stickers and share a laugh with your friends as you chat away
.
5. "Wow"
F
eature in Top Stories (a
vailable in
select
regions
)
As part of the WeChat's Official Accounts platform, Subscription Accounts allow media, brands, and individual authors to connect and share news, updates, and posts with a vast base of readers. When rea
ding an article
by
a Subscription Account, you can now tap the 好看 (
"
Wow
"
) button
(formerly "Like")
at the bottom of the article to express your appreciation. This will automatically result in the article being shared to your friends via the new "Wow" feature.
Within
Top Stories, we've added a "Wow" tab that allows you to view each day's articles shared by friends when they similarly tapped the 好看 (
"
Wow
"
) button. As Top Stories is only available in limited regions, you may have to enable the feature first by going to
"
Me
"
–
>
"
Setting
s"
–
>
"
General
"
–
>
"
Manage Discover
"
. After enabling, you will find
on the Discover screen
the
"
Top Stories
"
entry
, which you can tap and enter to see the new "Wow" tab
.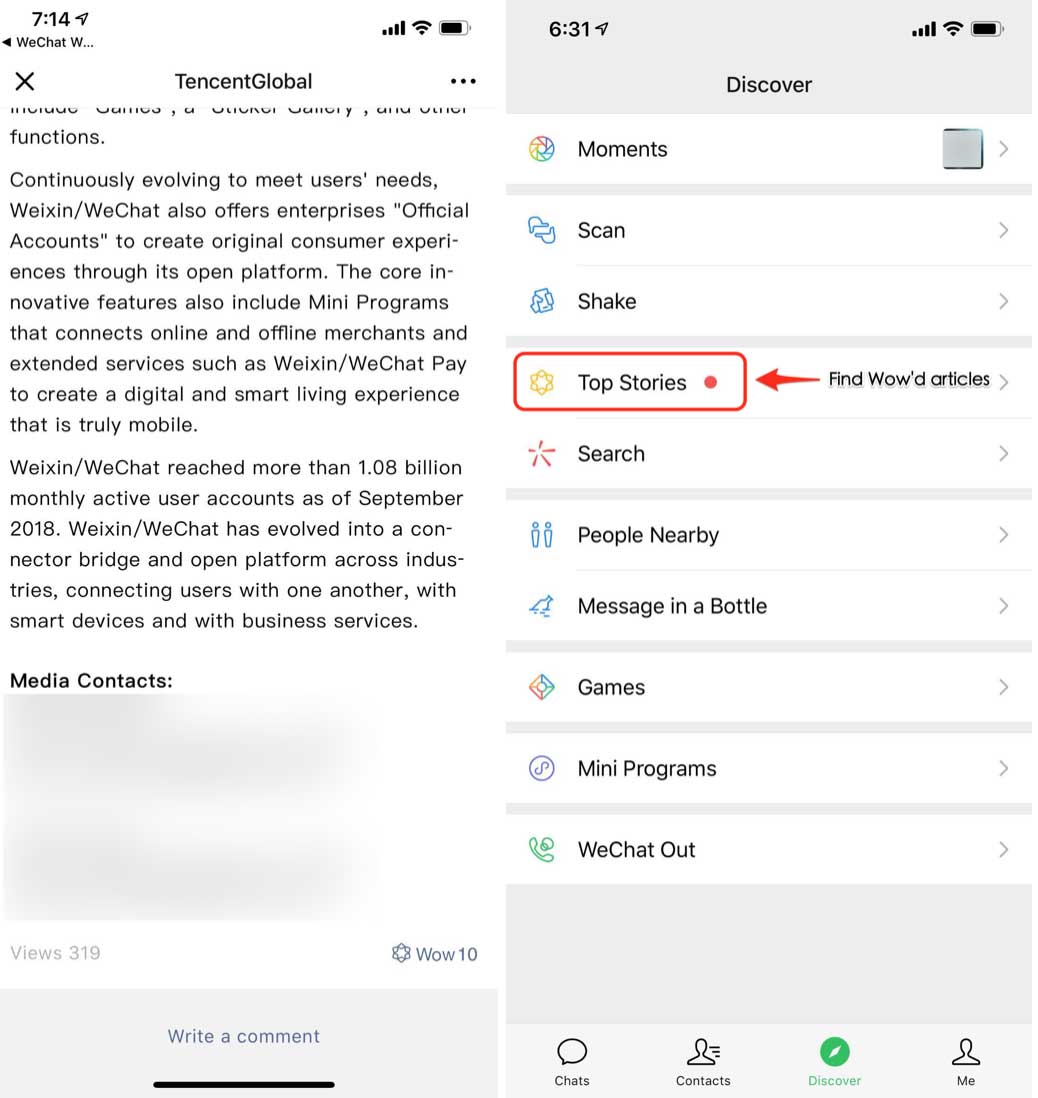 "Wow" makes sharing news and articles easier and more social.
---
​WeChat v7.0 brings a whole new level of convenience and sharing to your phone. Download and try it now from the App Store or Google Play!