WeChat's most recent release (v.6.5.22) includes key new features and improvements to make your WeChat experience on iOS devices even better:
Compatibility with iPhone X

Set a reminder to a chat message

New dual-column design for iPad

Enhanced Notes in Favorites

Improved chat history search experience (China)

Generate your own Reward Code (China)
Be sure to upgrade today!
Compatibility with iPhone X
WeChat has been updated to support Apple's latest release, iPhone X. In addition to a visual design suitable for the unique screen design on iPhone X, additional features include support for Face ID to verify your transactions when using WeChat Pay and an improved design for system notifications when receiving messages on iPhone X.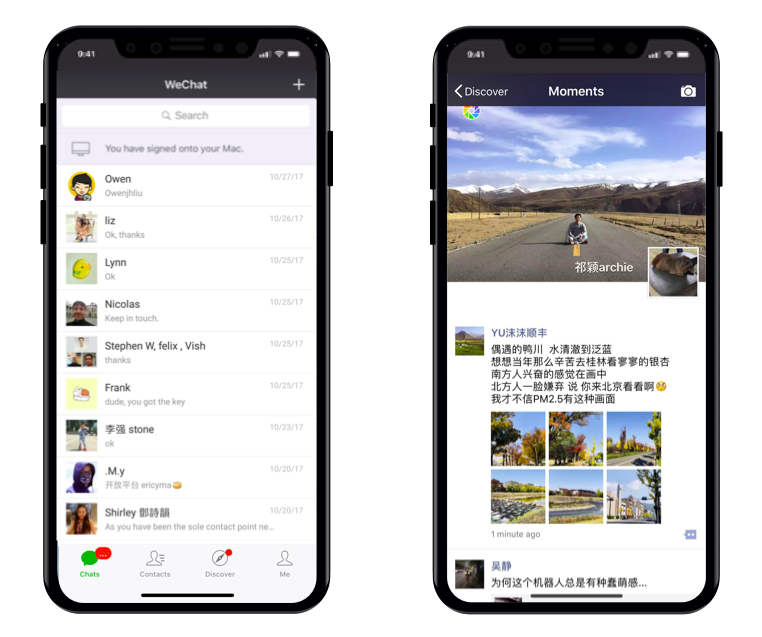 Set a 'Reminder' to alert yourself later of a chat message
Have you been receiving important messages that you haven't been able to reply to because you're too busy? We value your time and, so we now provide an option to remind yourself of an important message that you would like to review at a later time. With "Reminders," you will be able to set an exact date and time to receive the notification.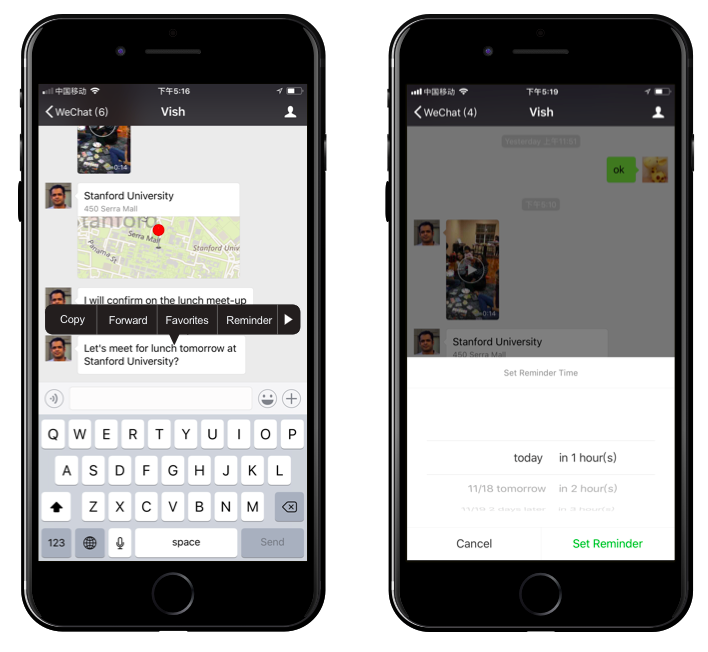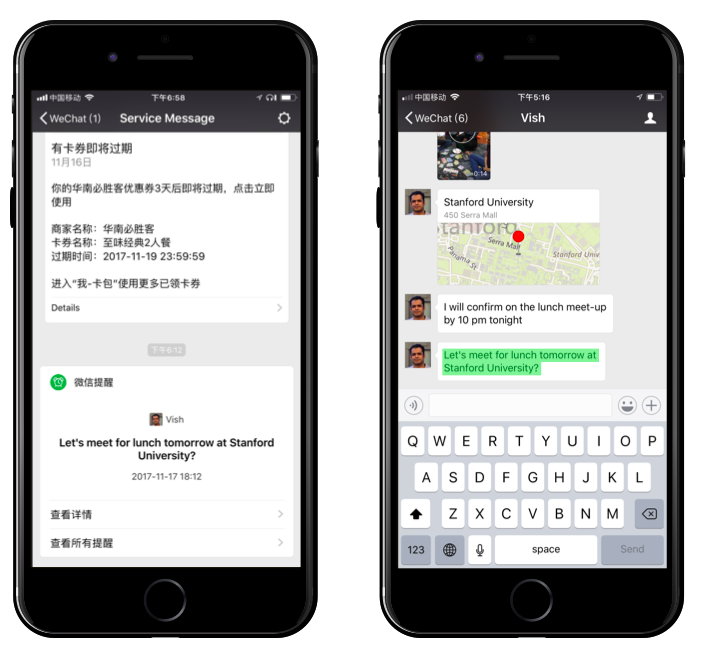 Here's how it works:
Long-press on a message bubble

Select 'Reminders' and choose a date and time to be reminded for this message

Tap "Set Reminder"
You will be sent a Notification about the message and can view the reminder within  "Service Messages."
A whole new design for iPad including a dual-column layout
We have improved the design for iPad for WeChat by adopting a dual column layout. This provides users with an even more convenient way to use WeChat with the iPad's bigger screen, enhancing the WeChat Lifestyle user experience. The Discover & Moments sections are also laid out on a dual column design, improving usability.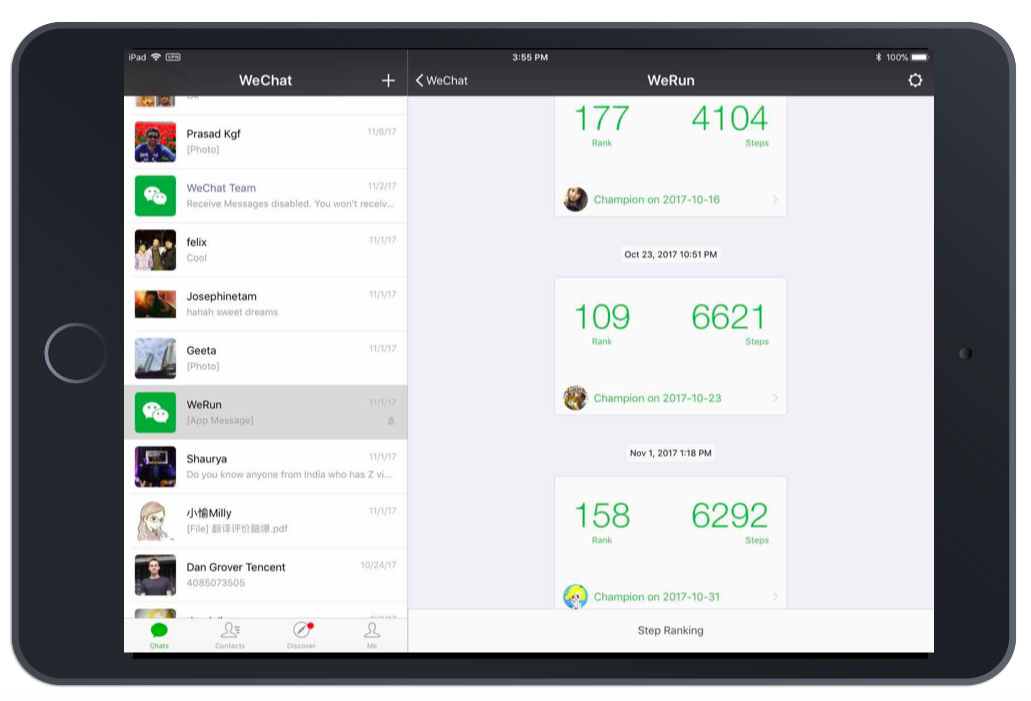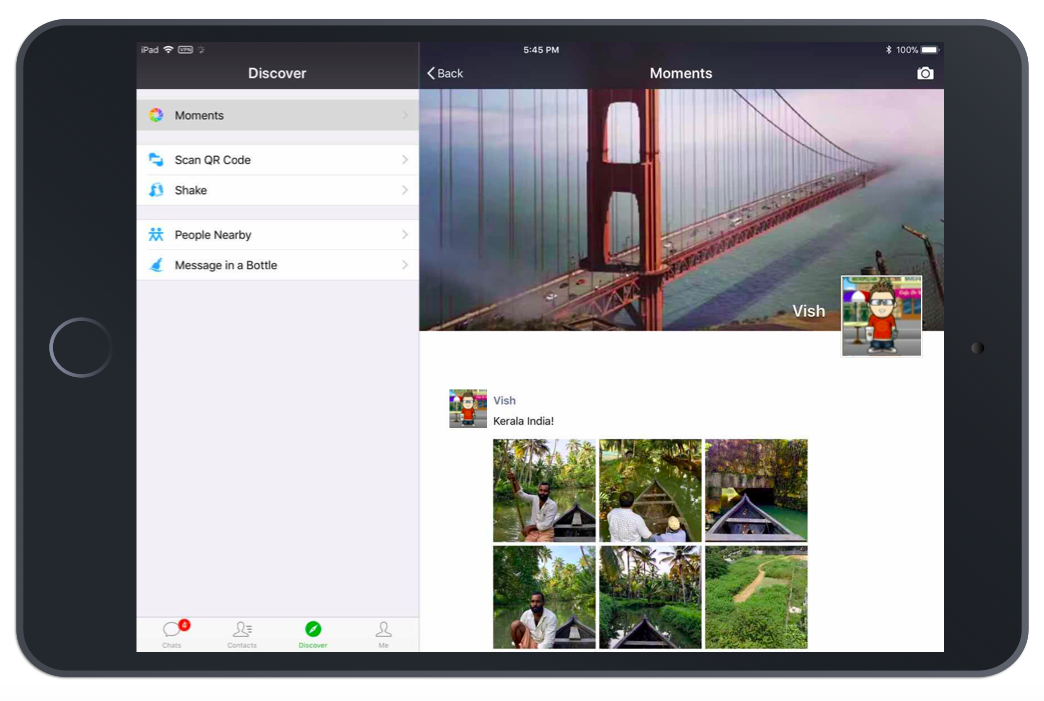 Enhanced Notes in Favorites
We have made two major enhancements to notes in Favorites. First, you can now create bulleted and numbered lists as well as add checkboxes when you're creating a shopping or to-do list. Second, we've added a "Sticky on Top" option to allow you to place a banner at the top of your chat list screen so you have easy and convenient access to important notes.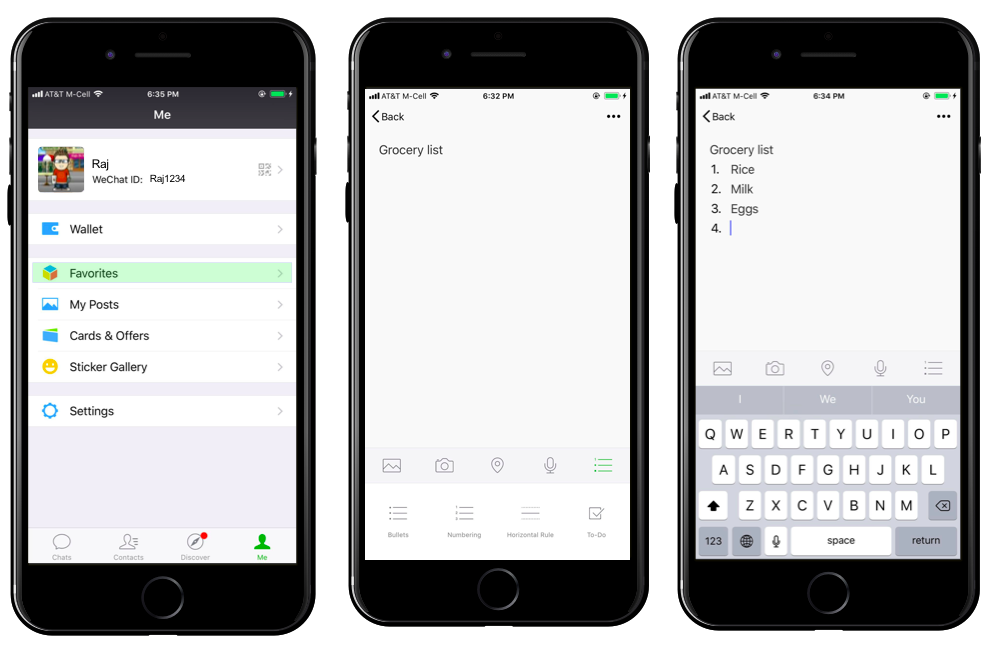 With the new ability to format Notes with bulleted and numbered lists, you will be able to organize your Notes in more readable format as seen below.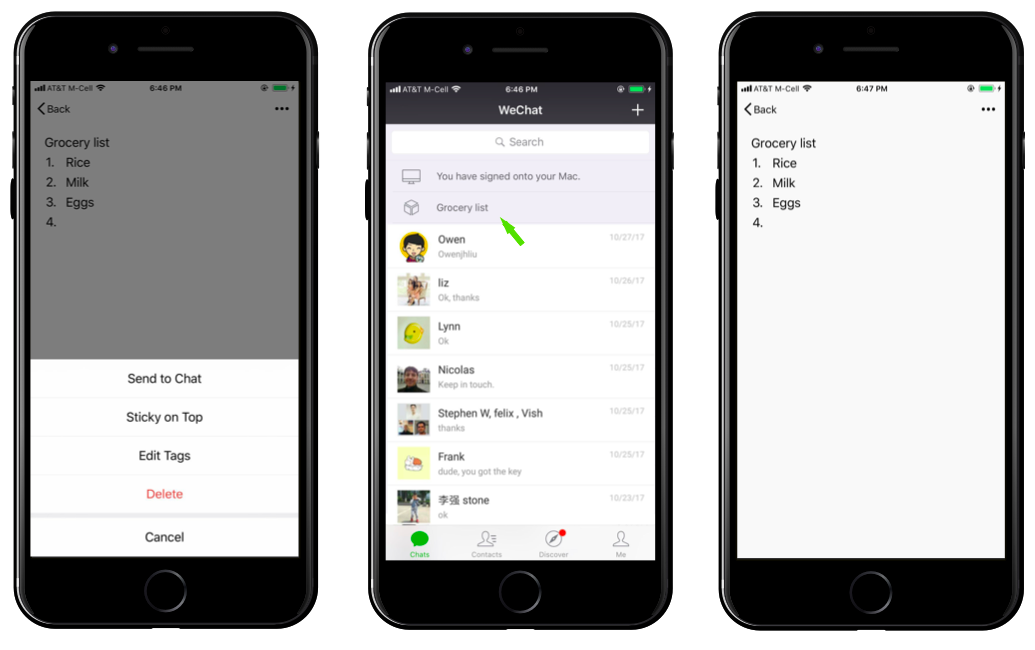 With the "Sticky on Top" option, you can revisit your notes more easily and update it as and when needed directly from the chat list screen.
Enhanced Chat History Search for Payment Transactions (China)
We've been working hard to improve the search experience for our users. With that in mind, we have introduced an additional option in the Chat History to filter searches to just WeChat pay transactions.  With this new "Transaction" option under "Search History," you will be able to view all payment transactions performed within a single chat.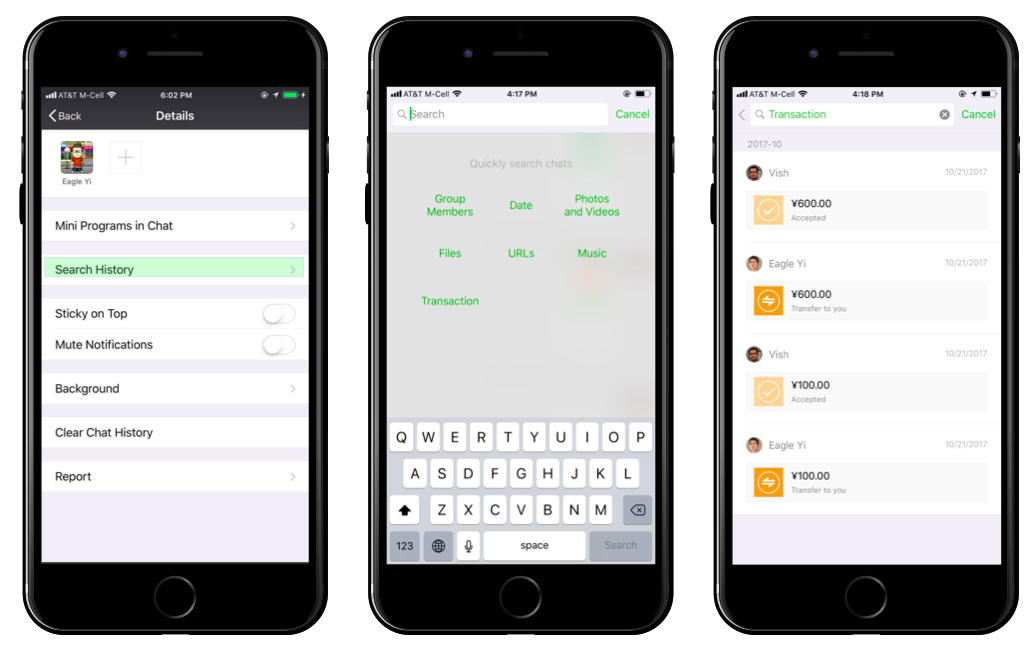 Generate your own Reward Code (China)
WeChat Pay users can now generate their own Reward Code and present it to other WeChat users to receive a monetary tip from them.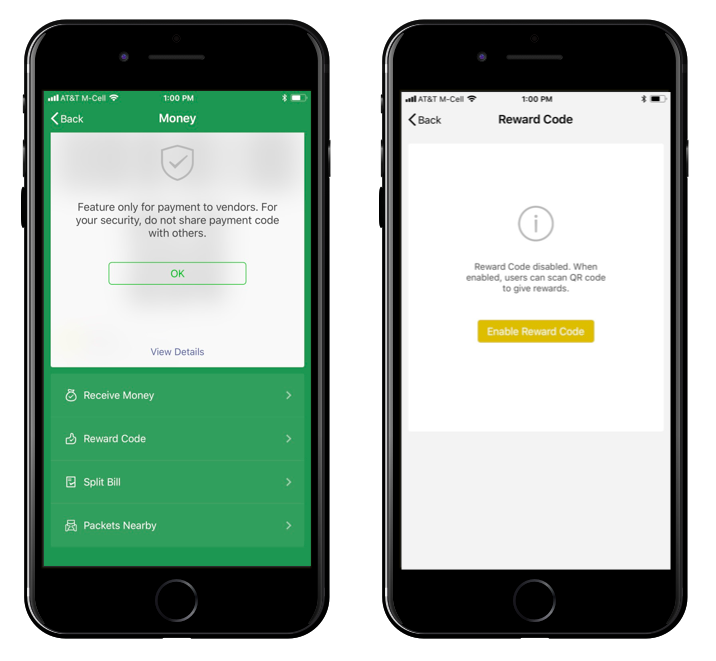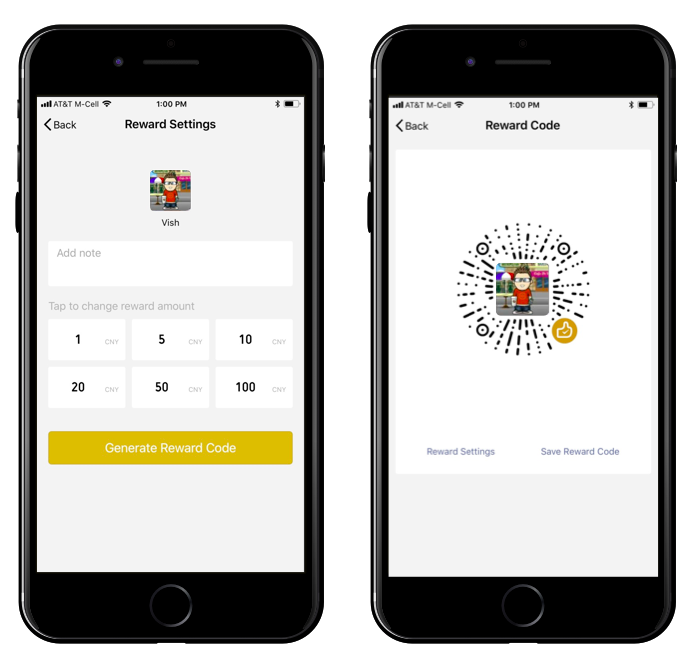 Here's how to create a Reward Code:
Tap the "+" menu on the chat list screen

Select "Money"

Select "Reward Code"

Tap "Enable Reward Code"
This creates a special QR code specifically for you that other users can scan in order to easily send you a tip safely and anonymously. You can further customize your reward code by entering six different reward amounts.
The Reward Code is currently only available to WeChat Pay users within China, and is great whether you are a streetside performer or you're a restaurant waiter seeking a safe and easy way to receive tips.