WeChat users in 12 countries including the United States, Hong Kong, Macau, Malaysia, Singapore, Italy, Thailand and India can now use WeChat Out to make calls to mobile phones and landlines in over 200 countries for nominal rates. WeChat Out is the latest milestone offering of the world's fastest growing social app with 762 million monthly active users around the world.
New WeChat Out users will receive more than an hour* of free calling credit. And all users can earn even more rewards by participating in our "Invite Friends, Get Free Calls" campaign.
One Click to a Free Call
"Invite Friends, Get Free Calls" is simple – the more you give, the more you get.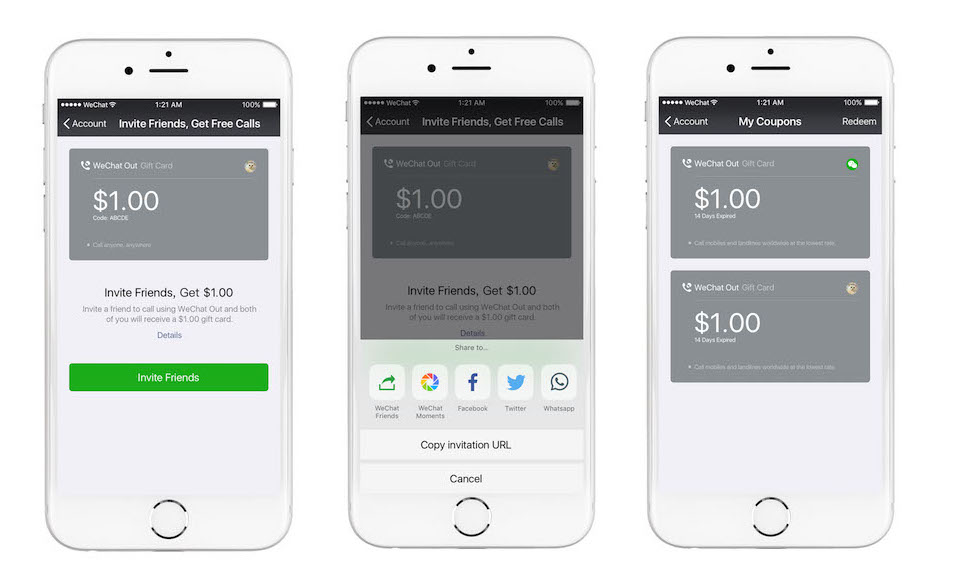 1. After upgrading your app version, enter the event screen and tap "Invite Friends, Get Free Calls"
2. Share WeChat Out gift cards with friends
3. Once your friends redeem their gift card and make a call, you'll receive one too for the same amount you gave. View all your gift cards under My Coupons.
Read More "Invite Friends, Get Free Calls" with Latest Release of WeChat Out Globally >>