Frog and Horse, the quirky duo, are making their third appearance on WeChat with the new Frog and Horse 3 sticker pack.
Since the introduction of their first sticker set, the two have risen to stardom amongst WeChat users and are ready to show off their best dance moves yet. This time, disco-style.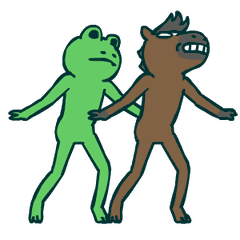 You haven't seen anything, if you haven't witnessed Frog's body rolls, Horse's batusi or the pair's synchronized hair flips. The set features 24 hip shaking stickers that will get you in the mood to party like a rockstar.
Be sure to download them today in your WeChat sticker gallery!