This Chinese New Year, Hong Kong WeChat users for the first time can spread the joy of giving and receiving Lai See even further with WeChat's new Red Packet feature. Regardless of how far apart you are from loved ones, no one will have to miss out as we welcome in the year of the Monkey.
Giving & Receiving Red Packets Like a Pro
Aside from just giving set amounts, you can also test the luck of your friends and family through the WeChat Red Packet game! Simply choose a lump sum to send to your chat group and let WeChat randomly assign an amount of money to put in each of your designated Red Packets. Your group will have to be quick-fingered to get your good wishes. Test their luck by grabbing Red Packets like a pro with these tips:
1. Have Your WeChat Wallet Ready
Make sure you download or update to the latest version of WeChat and activate your WeChat Wallet to save the Packet money sent to you. Simply connect your Hong Kong credit card (MasterCard or Visa) with your WeChat Pay account to set a 6-digit pin code, and you are ready to start grabbing Red Packets!
2. Make Sure You Are 'Notified' When Red Packets Come By
Red Packets can come in at any time and in different amounts. When they're delivered, make sure you're notified straight away so you can grab them before they run out. Enable notifications on WeChat and be the first to know when your friends start giving out Red Packets.
 3. Click It to Get It!  
Don't hesitate when you see the "WeChat Red Packet" message in your WeChat conversation windows – click "Collect Red Packet" at once to grab it. The amount in each Red Packet is random, so good luck grabbing the Red Packet with the biggest amount!
Now Start Your Own Red Packet Frenzy
Go to the chat window. Click the "+" logo at the right bottom corner of the message box to enter the "Red Packet" interface. Then assign a lump sum and the number of Red Packets you wish to give out. After clicking "Prepare Red Packet," WeChat will randomly assign the amount in each Packet for your friends.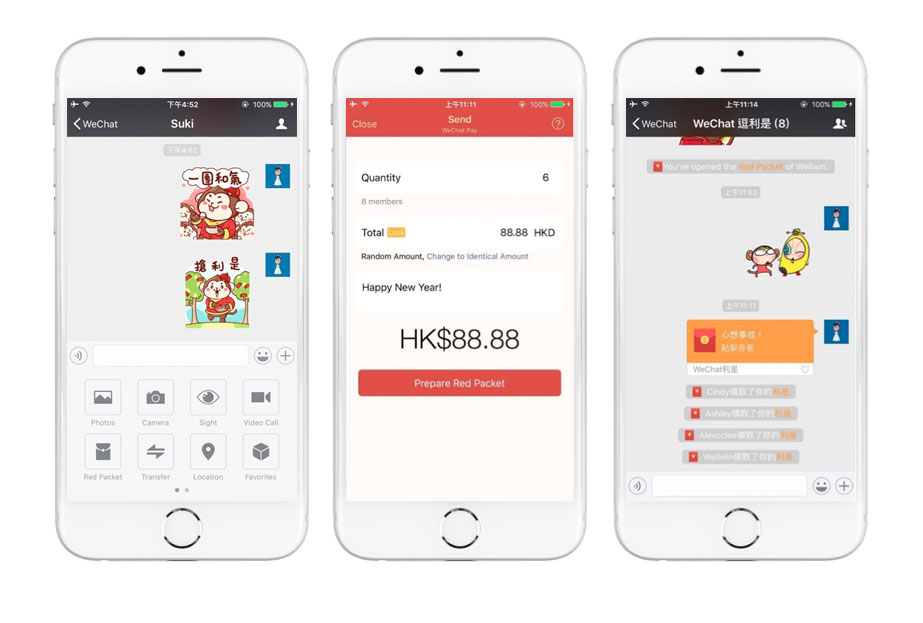 Spending Your Red Packet Money
Apart from sending and receiving money in the local currency, you can also send and receive red packets in RMB by simply switching the Wallet region to "Mainland" if you have been using the mainland version of WeChat Wallet. Money sent through Red Packets will automatically transfer to the user's WeChat Wallet so they can use it to pay for products and services on WeChat and enjoy exclusive promotions and campaigns on WeChat. Users can also choose to withdraw the money by transferring the amount to the bank account of their choice. Sending good wishes and Lai See has never been easier!