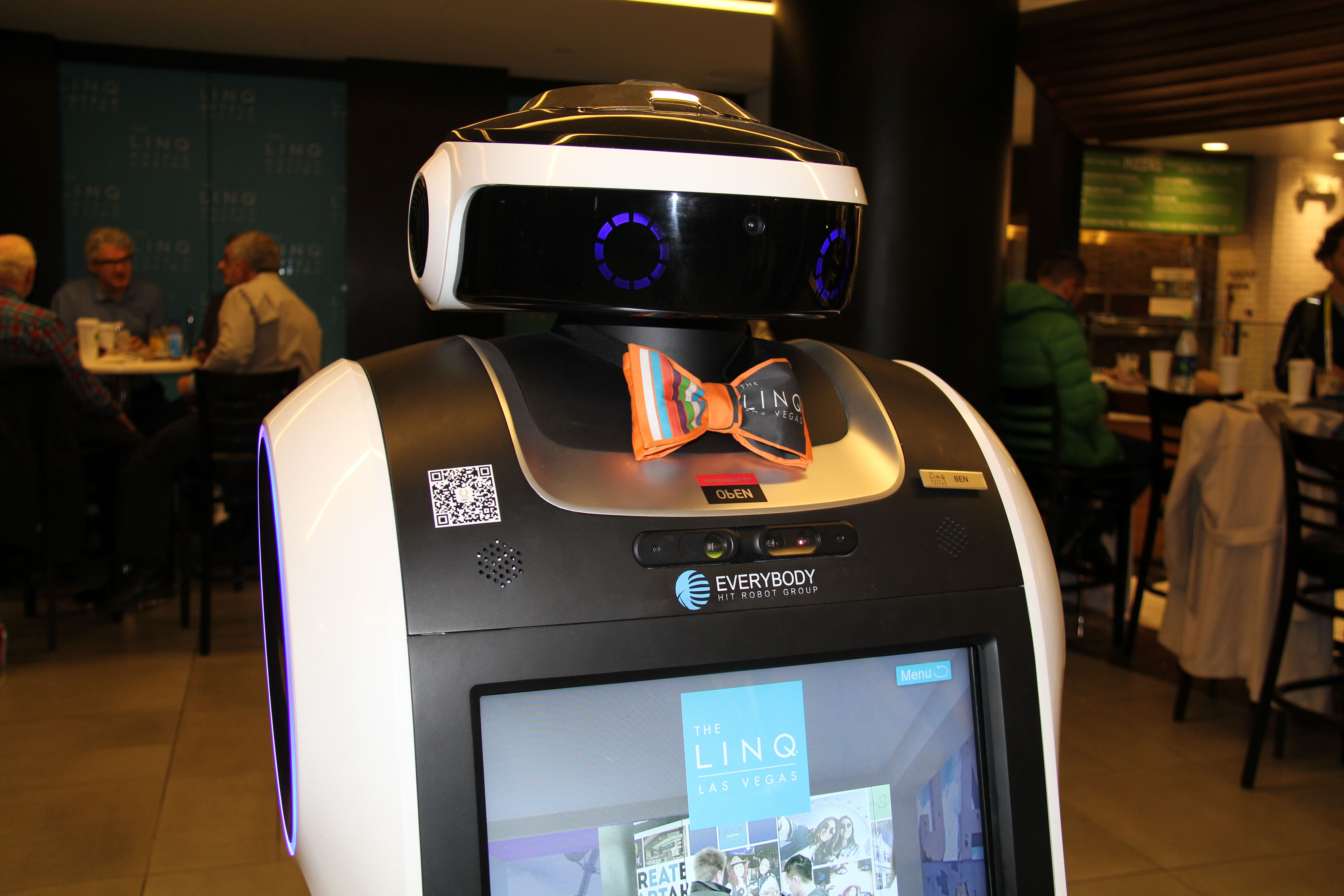 Caesars Entertainment introduces "Ben" the WeChat Robot – a virtual concierge – using ObEN's proprietary speech technology at The LINQ Hotel located at the center of the Las Vegas Strip during the annual Consumer Electronics Show from Jan. 6-9.
ObEN, an artificial intelligence (A.I.) company based in Pasadena, Calif., has developed a proprietary deep-learning based speech technology that permits any Internet of Things such as WeChat Robots to communicate in any language and in any voice in a matter of minutes.
During CES, visitors and guests of The LINQ Hotel will have the opportunity to converse with "Ben" the WeChat Robot from 7-11 a.m. and 4-8 p.m. on Jan. 6-9 through the WeChat app using an Internet of Things (IoT) platform developed by ObEN. To physically interact with "Ben," guests at the hotel can use the touchscreen on the robot to obtain information on nearby dining, entertainment and nightlife options. Guests can also send a message to the robot by following Caesars Entertainment on WeChat, and "Ben" will speak back to them on-site in real time. Additionally, guests can scan Caesars Entertainment's WeChat QR code anytime during Jan. 6-9 to engage with the virtual concierge from anywhere and receive information about the wide variety of experiences Caesars Entertainment Las Vegas resorts offer.
"Caesars Entertainment is pleased to continue a strong partnership with WeChat, bringing new innovations to life for our guests," said Tariq Shaukat, Executive Vice President and Chief Commercial Officer of Caesars Entertainment. "The LINQ Hotel serves as the perfect stage to showcase 'Ben' the WeChat Robot and his advancements for the hospitality world during CES."
Nikhil R. Jain, co-founder and CEO of ObEN, said, "We are thrilled to showcase ObEN's proprietary speech and IoT technology in collaboration with Caesars Entertainment and WeChat; it will reveal how our technology will benefit the traveler and service the hospitality industry using WeChat's global platform."
"Ben" the WeChat Robot will provide guests with a variety of information on local hotels, nearby restaurants, events and show tickets. For entertainment purposes, the robot will perform a dance as it interacts with guests and visitors of The LINQ Hotel.
From Feb. 8-14, "Ben" the WeChat Robot is expected to make an appearance at The LINQ Promenade – an open-air shopping, dining and entertainment district anchored by the world's tallest observation wheel, the High Roller – where it will be able to answer questions about the scheduled events to celebrate the Chinese New Year.
Follow Caesars Entertainment on WeChat:
WeChat ID: kaisaguanfang