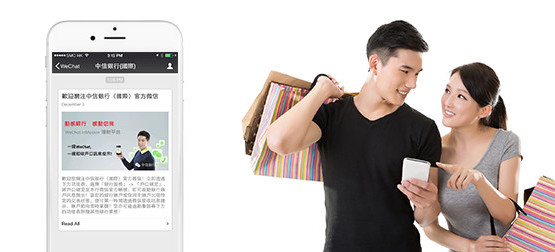 China CITIC Bank International Limited (the "Bank" or "CNCBI") announced this week the launch of WeChat Pay on its WeChat Official Account ("OA"). CNCBI first launched its OA last October. Now CNCBI extends its offerings from instant banking services to WeChat Pay, becoming the first banking institution in Hong Kong to embrace this e-payment solution. Customers purchasing single-trip travel insurance packages from CNCBI via WeChat Pay will get a 50% premium discount, while they can enjoy the convenience of an innovative experience with a variety of banking services.
"CNCBI Travel Insurance Packages" via WeChat Pay is available for both existing and non CNCBI customers. All customers simply need to log onto their WeChat accounts and "follow" the CNCBI WeChat OA, tap the "Banking Services" icon on the CNCBI OA, then "Purchase Travel Insurance". Customers will be redirected to WeChat Pay to settle the payment by VISA or MasterCard to complete the transaction.
Ms. Anne Lee, Executive General Manager, Strategic Business Initiatives, Personal & Business Banking Group, CNCBI, says, "Travel insurance is the Bank's first project on WeChat Pay. CNCBI will step up the development of mobile apps and will continue to cooperate with WeChat to introduce more innovative and personalised wealth management services. Thanks to the new technologies, the Bank aims to provide customers with a wide selection of banking and wealth management services that are beyond time and geographic boundaries."
To mark the launch of WeChat Pay on the CNCBI OA, from now till 31st March 2016, customers who successfully purchase single-trip travel insurance packages and settle payment through WeChat Pay will enjoy a 50% premium discount and those customers who pay premiums by CNCBI VISA or MasterCard will receive an extra coffee e-coupon.
Terms and conditions apply. For details, please call 2287 6788 or visit www.cncbinternational.com.