WeChat has extended its features in South Africa with the introduction of the WeChat Wallet, a digital wallet service. Like a physical wallet, you can securely store your bank cards and make instant cash payments within WeChat with the new feature.
With WeChat Wallet, users can electronically send cash to friends and family, just like handing cash to a friend to get you lunch or pay for coffee or a drinks at the bar. You can now use up to three chip and PIN debit or credit cards in the WeChat Wallet. Transactions through the cards are verified by Visa and MasterCard security systems, can be saved in the WeChat Wallet.
Cards linked to the wallet can also be used to Cash In and increase your wallet's cash balance, pay for services on WeChat such as airtime, data, electricity, food or pay SnapScan merchants. People can Cash In and Cash Out at Standard Bank ATMs, participating retailers, including SPAR, SPAR Tops and Cambridge Food Stores.
In addition, cash can be sent to friends via WeChat – even without the need for a bank account. When registering for the WeChat Wallet, users automatically become Standard Bank Instant Money users, which allows those without bank accounts to enjoy the benefits of the platform. Instant Money vouchers make up the cash balance, which can be topped up via Standard Bank self-service channels.
People can also Cash In and Cash Out via Instant Money Vouchers at Standard Bank ATMs and participating retailers, including SPAR, Cambridge, Rhino and Choppies Stores.
"The new digital wallet service is WeChat's most exciting offering yet. It truly showcases the scope of the platform and provides a safe way for users to store their bank cards and make cash payments on the go in a tech-savvy way," says Brett Loubser, Head of WeChat Africa. "The service is another way WeChat is merging the online and offline worlds, providing users with seamless payment integration in a single application. Now they won't be inconvenienced if they forget their purses or money at home because everything they need is at their fingertips.".
The digital Wallet is backed by Standard Bank. "At Standard Bank we're devoted to transforming the banking experience by making it faster, easier and much more accessible, anytime, anywhere," says Kheta Mazibuko, Head, CFS, Personal Services, Customer Financial Solutions, Standard Bank. "Not only does it give customers the freedom to choose how they stay in control of their finances, it provides them with peace of mind knowing that they can do so safely and securely, with the backing of a banking brand that is committed to being always on and available to them 24/7."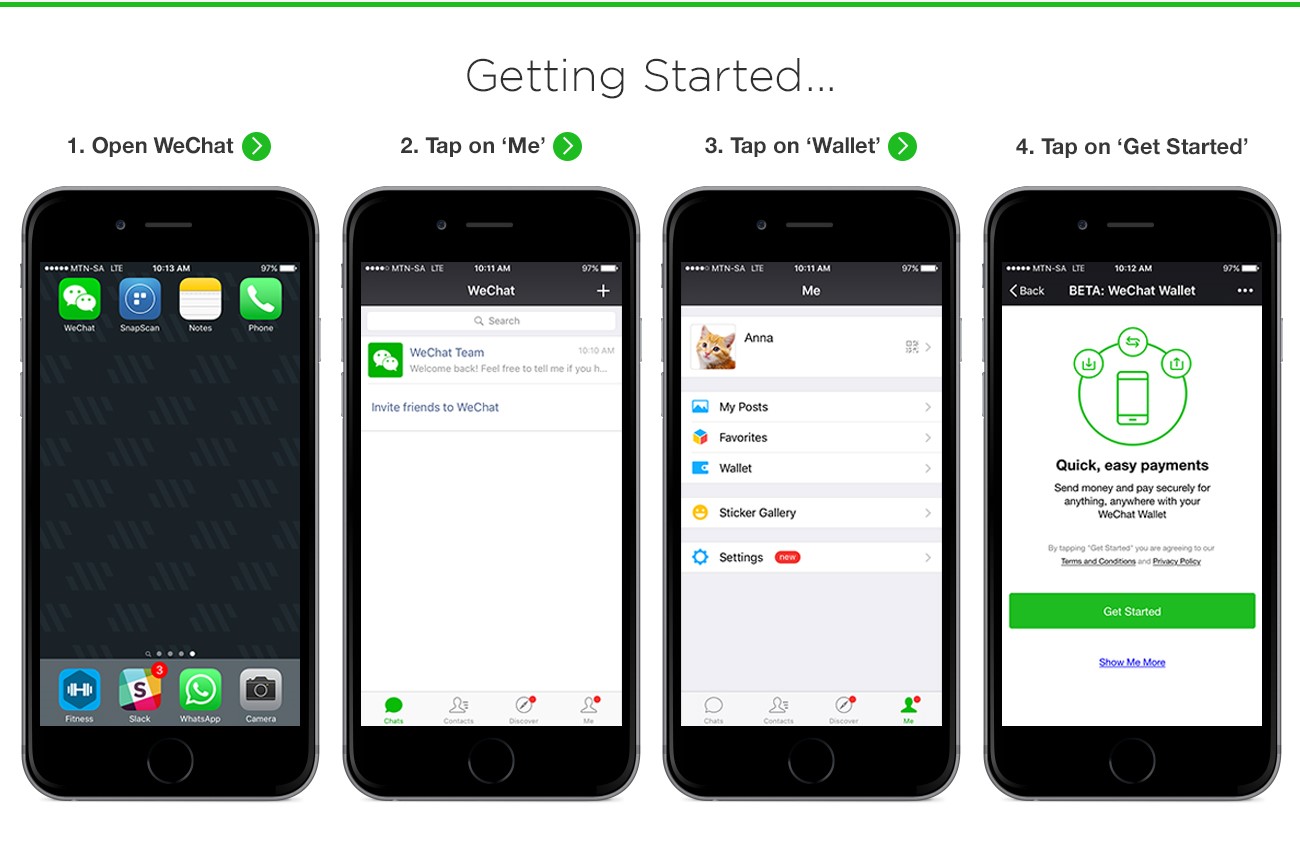 Registering for WeChat Wallet is easy. If you are a WeChat user in South Africa, simply log into WeChat, tap 'Me', then tap 'Wallet' and follow the step-by-step instructions. The service is only available to South Africans who are 16 or older with a valid ID number and are using iOS or Android phones.
Learn More From the Videos Below