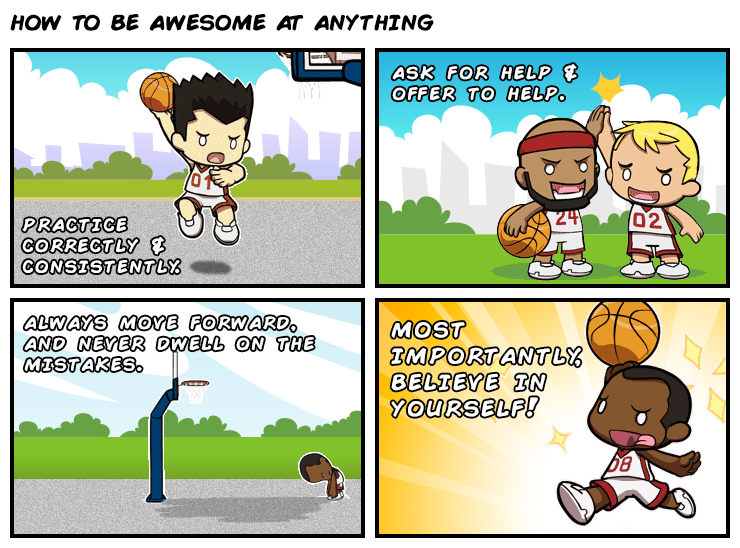 With the NBA Playoffs in full swing, we've decided to launch a new set of stickers featuring "The Ballers." The Ballers are the dream basketball team – they are determined, hardworking and focused. And while they're serious about playing big, they also know how to have some fun.
So let's meet our court-side heroes – AJ, Chris, Nick and Harry. They're great friends both on and off the court and have amazing team chemistry. When they're not competing against other teams, they can be found working out and ballin' against each other.
The Ballers
AJ, the bearded player, plays more fiercely and aggressively than the others. He is always on his A-Game, and can be quite stubborn on court. He's known as the "ball hog" and while he can seem arrogant, his top-notch skills and team loyalty make him a great captain.
Chris, who is lucky number 8, is the loveable and fast-thinking strategist of the team. Always upbeat, his energy and happiness is contagious, keeping the team in good spirits before a game. Being a little clumsy at times, he's also super endearing to fans and aspiring basketballers.
Nick, the blondie of the team is a free spirit, and can often be found day-dreaming while practicing on court. Come crunch time though, he brings his best with buzzer-beaters and killer slam-dunks.
Harry, the newest player, is by far the quietest and most humble player. He's lightning-fast on his feet and plays amazing defense. And while he's often the hero in many tricky situations, he'll always share the limelight with his fellow teammates.
Collectively, AJ, Chris, Nick and Harry have an unbeatable team dynamic, but they're still searching for a fifth player to complete the team. Could it be you?
Download WeChat today and visit the Sticker Gallery to start using these fun stickers and many more. Available in select regions.