To help you celebrate, we've packaged six red envelopes filled with WeChat tips and tricks to ensure your Chinese New Year holidays are fun-filled and smooth sailing from here on out.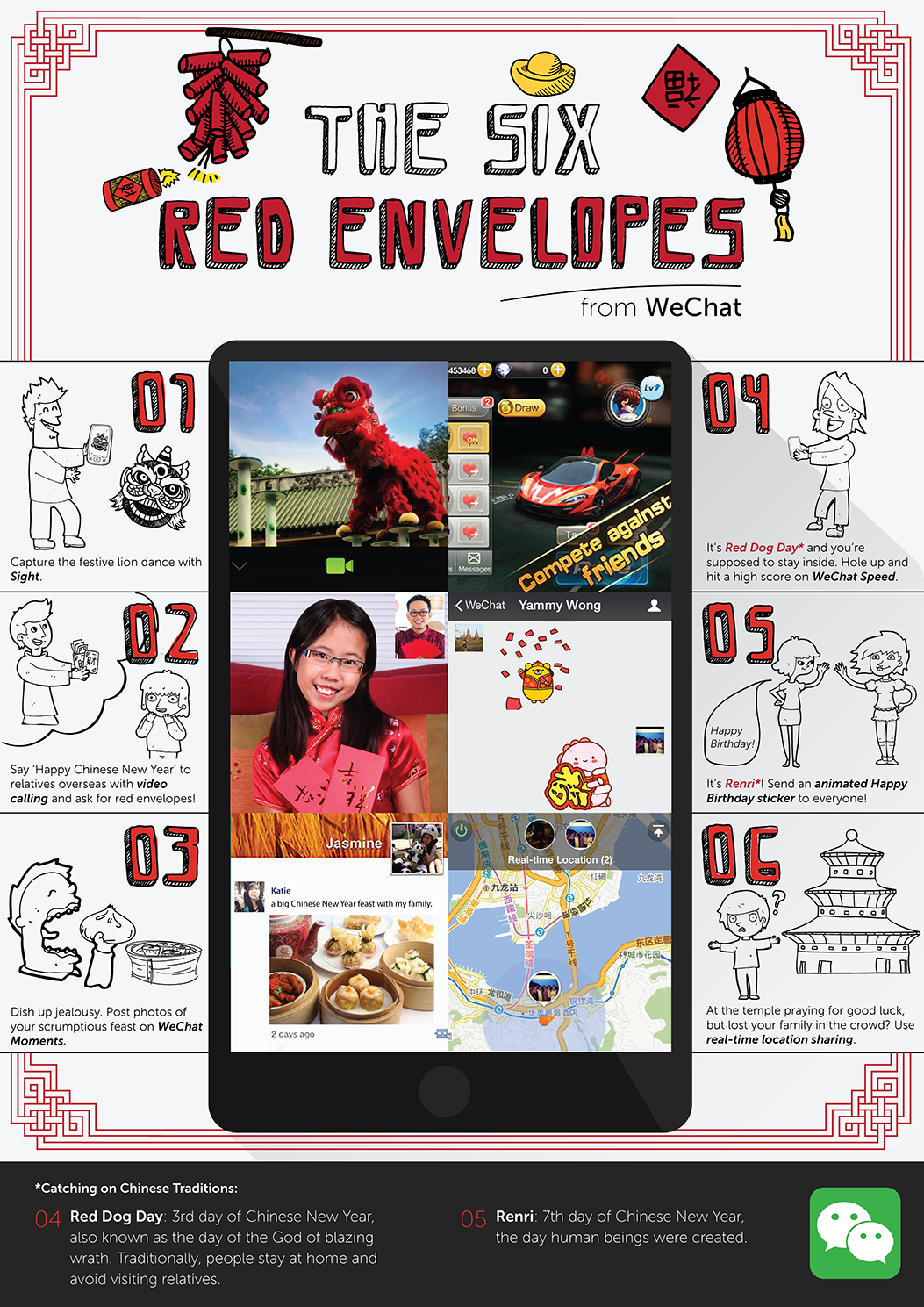 Ringing in the New Year
Show off your sensational Sights
Start your Lunar New Year with the festive lion dance! Capture and share the loud drum celebrations and dance action by recording a Sight video. To get started, visit your "WeChat" tab > Swipe to the bottom > "Hold to Capture" > Begin recording > Post it to Moments or share it privately with your friends. You can also save it in your "Drafts" if you'd like to send it later.
Video call your overseas relatives
Can't be with all your overseas relatives? Fear not, WeChat's handy Video Call brings you closer so you can wish them a happy and prosperous New Year (and of course, sneakily ask for red envelopes). Just open up a chat window and press "+" > "Video Call."
Snap food pics to drool over
The Lunar New Year wouldn't be the same if it weren't for the feast that follows all the activities. Snap away at all the traditional delicacies, each of which symbolize different well wishes:
Dumplings represent Chinese gold and silver ingots.
Fish symbolizes an excess of wealth.
Sweets signify a sweet year.
Glutinous rice balls in ginger soup (Tong Yuan) stand for unity and harmony in the family.
New Year glutinous rice cake (Nian Gao) denotes a wish for someone to reach higher limits.
Don't forget to post your favorite food pics to Moments and make all of your WeChat friends drool with food envy. Select the "Discover" tab > "Moments" > Tap the camera icon and post away.
Post-Chinese New Year
Pass time on Red Dog Day
The third day of Chinese New Year honors the God of Blazing Wrath and is also known as Red Dog Day. This is when it is custom to stay home. Snuggle up indoors and pass the time with WeChat Speed – available in your "Discover" tab.
Celebrate everyone's birthday
Renri is the seventh day of Chinese New Year, the day all humans were created. This means it's everyone's birthday! Wish all of your friends and family a Happy Birthday with WeChat's animated happy birthday stickers. Download them for free from our Sticker Gallery.
Find your friends and family
It's likely you'll be visiting crowded places post-Chinese New Year, and could possibly get lost in the crowds. Using WeChat, you can easily share your real-time location so that your family and friends can spot you in no time. To provide your Real-Time Location, begin in a chat window > Press "+" > Tap "Location" and select "Real-Time Location." Now you'll have no problem finding each other!
With these six envelopes, your Lunar New Year celebration will be the best one yet. From all of us at WeChat, we wish you and your family a happy and prosperous Chinese New Year!