Whatever your relationship status this Valentine's Day, WeChat has all of the tools to help you celebrate this romantic time the way that works for you.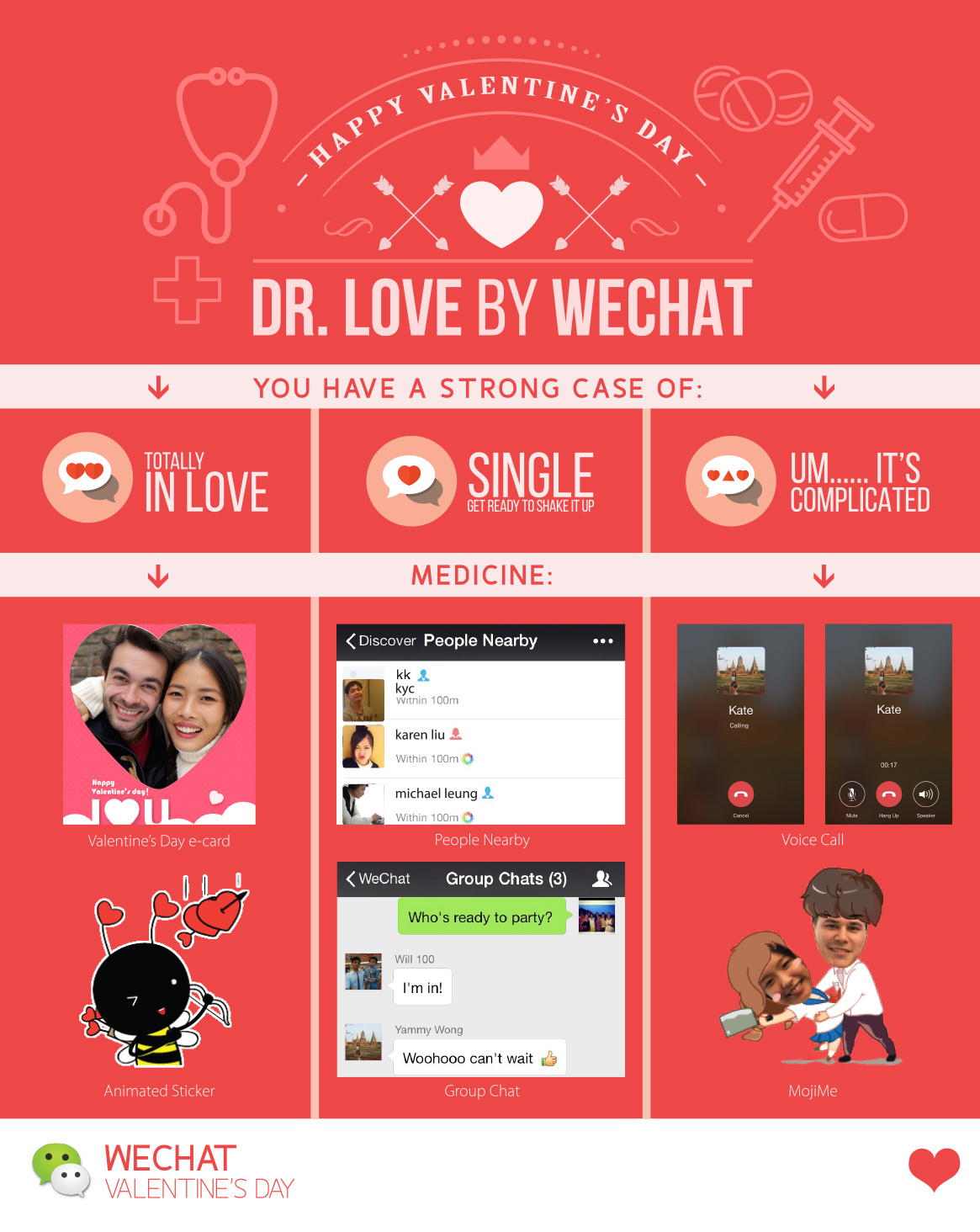 Totally in Love
Feeling warm and fuzzy with butterflies fluttering in your stomach? Or maybe you can't stop thinking about that special someone and your eyes light up when you're with them. That's what they call love, and we have the prescription for it.
Customizable Valentine's Day E-Cards
Every romance has its own special story and sometimes, regular cards just don't cut it. Instantly customize your photo then send the free e-card to your special someone. Get started by visiting the menu in the WeChat Team account.
Available in select regions.
Animated Stickers
If a picture is worth a thousand words, then imagine how many love letters you can write with animated stickers. Melt your lover's heart with our "Sweet Love" and "Trainee Cupid" sticker sets. Download them for free in our sticker gallery.
Single – Get Ready to Shake it Up
Ah, singlehood. Nothing is more exciting than meeting new acquaintances and forming new friendships (or relationships) during this time. For all the single ladies (and gentlemen), we've got you covered.
People Nearby
Looking to add someone new to your life? With People Nearby, you can instantly chat with other WeChat users who also want to connect with folks in your area. To begin, simply visit the Discover tab > People Nearby. Meeting locals has never been easier.
Group Chat
Life is always more exciting when you're spending it with your friends. Create a Group Chat to plan a fun single girls' or guys' night out! Tap the "+" button in the WeChat tab to start. Now let the fun begin!
Eh.. It's Complicated
Life isn't always rainbows and unicorns and the same can be said for relationships. Whether you're on a rollercoaster ride or just not sure, WeChat can help you make your relationship a little less complicated.
Free Voice Calls
They say communication is the solution to all problems, so we're making it easy and free to do just that. Use our free voice call feature to get in touch and work things out no matter where you are.
MojiMe
When it's complicated, situations can escalate very quickly. That's why we recommend MojiMe. Send fun, personalized stickers to ease the tension. After all, laughter is the best medicine, right?
Download MojiMe and create single or dual emojis that you can save and use again and again in WeChat!
Whether you're in love, out of love or just not sure, we've got everything you need to celebrate Valentine's Day your way right here on WeChat.
XOXO,
WeChat Team