With all the parties and festivities scheduled in December, we're always looking for new gift ideas and outfits to celebrate the holiday season.
For those WeChatters getting in early on their holiday shopping, the Streetwear Tour in Indonesia was the perfect spot for uncovering unique gifts for loved ones or for the cheeky shopper in each of us, perhaps a self-picked present to spoil ourselves.
Over 200K people flocked to the event where WeChat made sure there was something for everyone. In support of the growing local street-wear and urban-wear industry, fashion lovers were able to find pieces from local retailers showcasing their latest styles. Music lovers enjoyed star performances from local artists with guest appearances including the likes of Bottlesmoker and Superman is Dead.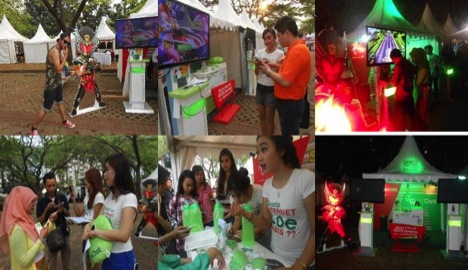 For WeChatters taking a break from their hunt for the perfect gift, they were able to unwind at the WeChat booth while playing games and completing WeChat challenges. Winners were awarded with cool prizes such as WeChat pillows, notebooks, pens, and key chains.  Contestants also had a chance to test their racing skills by battling it out on some of their favorite games on the big screen, including WeChat Speed and Thunder Raid.
As the shopping frenzy kicks off this holiday season, WeChat will continue to bring you helpful tips and hints, including the best OAs for seasonal shopping. So stay tuned, keep calm, and shop on!