WeChatters love to chat and with the launch of the official account for WeChat's global blog, Chatterbox, you can keep up to date with all the latest from WeChat around the world straight from us. Just search "WeChatBlog" and follow the account.
From the latest product updates to a sneak peek at fun WeChat events happening in your country, the Chatterbox blog is the place to be. The blog brings you everything WeChat-worthy and now with its official account, you never have to miss out on the latest from WeChat.
What will I get from subscribing?
New Blog Post Alerts – whenever we publish a new post, you'll receive a short message notifying you to check out the latest news. You'll then be able to read the new blog post directly from your phone
Favorite Blog Post Search – whatever you're looking for in each category, simply select and it will take you directly to the blog page
Video Search – for the more visual WeChatters out there, we've also added in a video section that takes you to our WeChat YouTube channel. Just pick and choose which category you'd like to watch and it'll take you directly to our YouTube page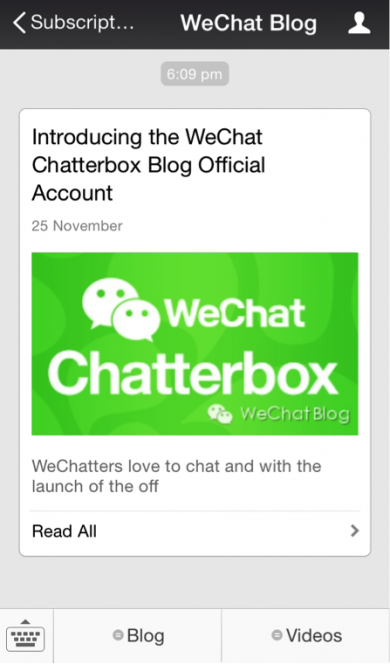 To follow the Chatterbox official account, simply scan the QR code below or search for the username "WeChatBlog."
Hope you enjoy and happy WeChatting!