GlobalWebIndex, a market research company that conducts the world's largest multi-market research study on online consumer behaviors and trends, covering 32 markets and representing 89% of the global internet audience, published the following blog post about 2014 mobile trends and how WeChat stacks up in the mobile messaging arena.  We are sharing for our readers, hope you enjoy! 
In the world of digital, 2014 has been the year of the mobile messaging app. From market to market, we've seen conversations migrating away from the big social networks and SMS/MMS services as more and more people carry out their conversations via dedicated mobile messaging tools. As a result, the numbers using mobile chat services have been seeing strong quarter-on-quarter increases – with the total global audience growing by 40% since the start of 2013.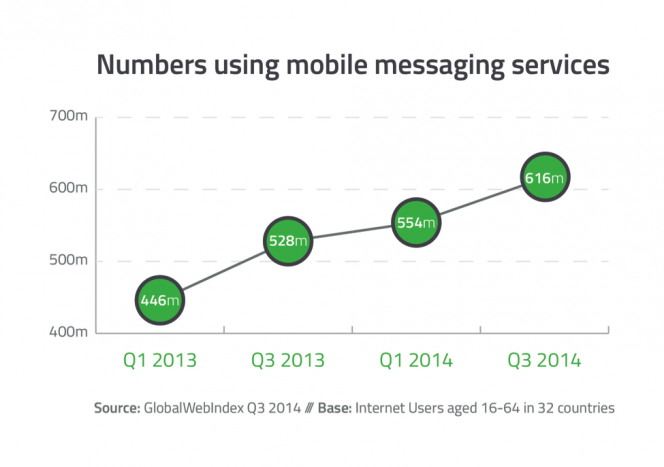 The reasons behind the explosion of mobile chat tools are pretty clear to see. Firstly, smartphones have quickly established themselves as an integral part of our daily routines and communication behaviors; globally, 80% of online adults now own a smartphone and three quarters say that they are regularly using the mobile internet. Secondly, and just as significantly, internet users value the fact the messaging apps are free (45%), quick/easy to use (41%), private (29%) and fun (27%). With people no longer wanting to share everything with everyone on social networks, mobile messaging apps have become the ideal place for both one-to-one and group conversations.
As this has been happening, we've witnessed a string of high-profile acquisitions as well as the launch of numerous new features and functionalities. But as we approach the midway point of the current decade, what does the mobile messaging landscape actually look like? With GlobalWebIndex's data allowing all messaging apps to be tracked in a comparable away across 32 different countries, which service is in pole position?
Earlier in the year, we noted that Tencent's WeChat was the number one chat app globally. As our chart shows, this dominance has continued as 2014 has unfolded, with WeChat enjoying a particularly high penetration rate within the APAC region. Nearly a quarter of the world's internet users aged 16-64 are now using WeChat on a regular basis, with the figure just short of 40% in Asia Pacific. That's an impressive level of reach, and one which puts it around 50 million users ahead of its next closest rival (Facebook Messenger, on 20%). This gap is much bigger within APAC, though, where WeChat has an audience nearly 2.5x bigger than that of Messenger.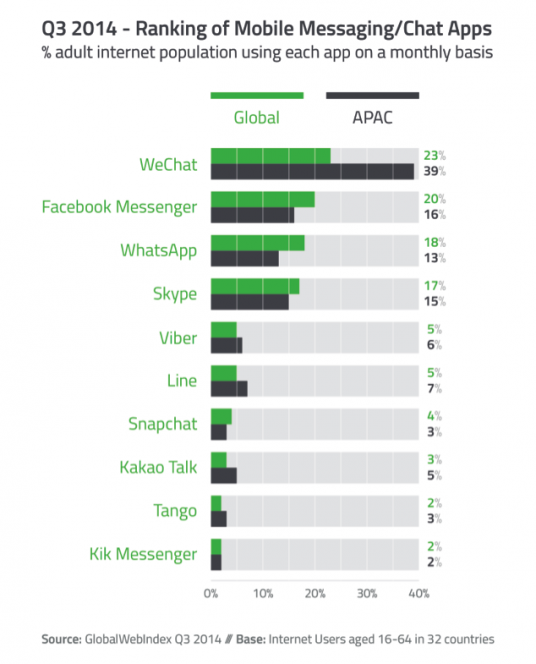 WeChat remains wildly popular in its home nation of China, where the vast majority of online adults are users. But it's had a particularly buoyant year across the whole of Asia: between Q1 2013 and Q3 2014, WeChat's membership base in APAC grew by an impressive 150% – with the service adding an extra 200 million users. To put that in context, its new user base is the equivalent in size of Brazil's entire population. And the levels of growth can be even bigger in individual markets: WeChat's audience numbers rocketed by 500% in Singapore, by 1200% in Malaysia and, most strikingly of all, by 2350% in India. Close to a quarter of adult internet users in India are now in fact using the app – showing why WeChat is becoming a truly international force.
Looking at the demographics of WeChat users provides more good news for its parent company, Tencent. Compared to Facebook Messenger or WhatsApp, WeChat's user base has a younger age profile – with a higher share of its users drawn from the key 16-24 group (in a market like Malaysia, for example, a third of WeChat users come from this age bracket – compared to 29% for WhatsApp). Globally, nearly three quarters of WeChat's users are in fact below the age of 35.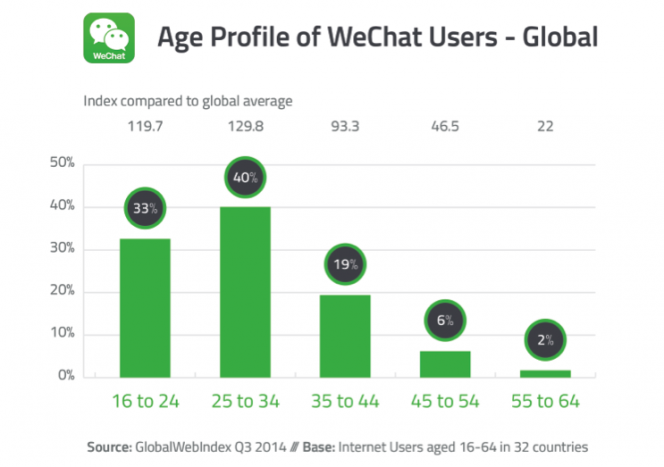 It's a similarly positive story on other measures, too. Overall, WeChat's users over-index the most strongly for using messaging apps because they are fun. From country to country, they are also consistently more likely to be drawn from the top income quartile. And they're highly brand-conscious and vocal as well: 3 in 5 say they tend to buy brands they see advertised (20% ahead of the global average), while three quarters say they tend to buy premium versions of products (over-indexing by 36%) and that they regularly tell friends and family members about new products or services (over-indexing by 28%).
With such a young, fun-seeking and affluent audience as well as the strongest usage rate of any messaging app in APAC, it's clear that WeChat is a name to watch in the rest of 2014 and beyond. Indeed, while WeChat's audience size in other regions remains more modest, it has over the last two years been experiencing considerable levels of growth across the Americas, Europe and MENA, too (as just one example, its LatAm audience size rose by 250% between Q1 2013 and Q3 2014). As with so many other digital trends at the moment, then, one thing is clear: China is rising.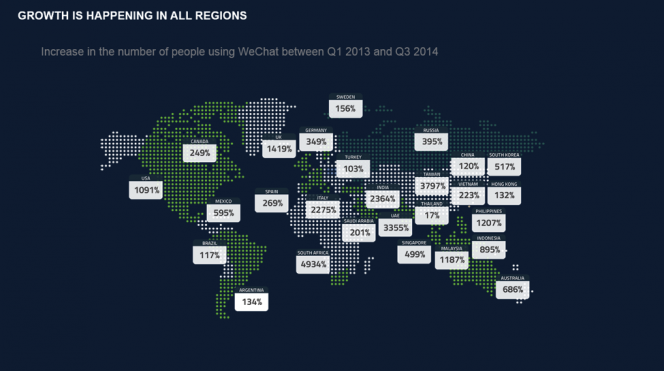 *To view the original GWI blog post, please visit: http://blog.globalwebindex.net/wechat-retains-crown