WeChat is thrilled to announce our new integration with LinkedIn to enhance mobile social networking for our users. As LinkedIn connects business professionals all over the world, WeChat provides a global communications platform to increase and deepen these connections.
In the new WeChat 5.4 update for Android, users can now manage their professional identity and relationships on both WeChat and LinkedIn – making it easier to build and sustain professional and social networks.
To increase your professional presence on WeChat and LinkedIn, just follow these four simple steps:
1. Link Your WeChat and LinkedIn Accounts
Bind your LinkedIn account with your WeChat account to see which of your LinkedIn contacts are also using WeChat. To do this, simply select "Add Contacts," then "Mobile & Other Contacts." From there, tap "Add LinkedIn Contacts" to add all your LinkedIn contacts on WeChat and start chatting. Once you do, it's easier than ever to stay in touch with professional connections by dropping a simple sticker, text or creating a group chat with colleagues.
2. View Your Contacts' LinkedIn Profiles on WeChat
After binding both accounts, contacts will be able to view your LinkedIn profile through a new LinkedIn Namecard that appears on your WeChat profile page. The Namecard feature inside WeChat allows you to share your professional identity. If you meet someone during a meeting, you can now add them to your WeChat contacts with our many friend adding features (QR code, friend Radar, Private Group) then check out their LinkedIn profile to expand your professional network.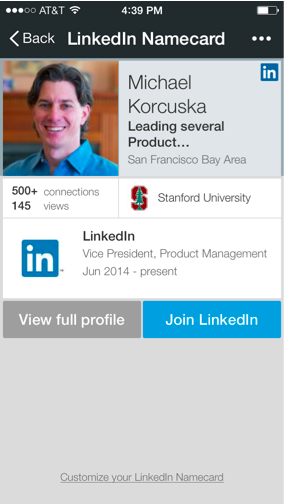 3. Scan to Add LinkedIn Contacts to WeChat
You can also scan your LinkedIn contact's QR code to add them on WeChat. In the "Contacts Info" tab on LinkedIn, select "WeChat" then scan the unique QR code to add them to your WeChat contacts and start chatting.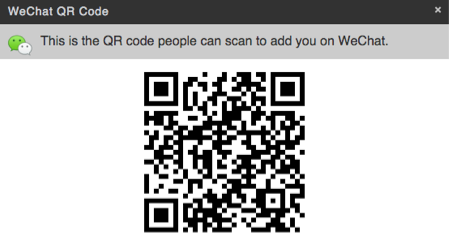 Through this integration, we hope to make the world of business more social, fun and convenient. Whether it be for professional or social reasons, it is now easier to connect and keep in touch with your contacts all over the world.
To learn more about the LinkedIn.com and WeChat integration, check out LinkedIn's official blog at  http://blog.linkedin.com.