For all you cricket lovers in India, South Africa, Australia, England and world over – keeping up to date with your favorite sport just got easier with WeChat.
With the launch of the gocricket official account, you can keep tabs on the latest cricket news, scores and rankings no matter where you are.
Gocricket provides access to real-time scorecards, game commentary and in-depth coverage and analysis from the wide world of cricket. You can even checkout match snapshots and share them with your fellow cricket lovers on WeChat.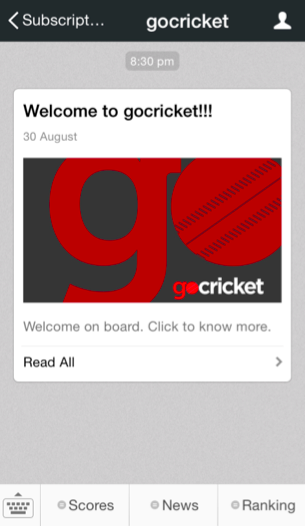 Through gocricket, fans in India have access to four nifty features to satisfy their cricket fix:
"Scores"
There are three options in this tab – quick scores, results, and fixtures, all of which come in handy when you're unable to watch a match live. So if you're in the middle of cramming for an exam, you can still be part of the nail-biting fun and find out how your team is faring in real-time.
"News"
Here, you can get the hottest and latest cricket stories, take part in polls and even check out photos of your favorite players.
"Ranking"
Under this tab, you can view how your favorite team and players rank compared to their competition. If you find yourself in an intense cricket argument and need authentic data to help defend your home team, we've got you covered.
Chat Cricket
Need even more cricket related information? You chat cricket to us by tapping the keyboard symbol on the bottom left – simply type in your query and receive a response.
So whether you're cheering for Virat Kohli or Dhoni, follow GoCricket on WeChat and get all the action from the world of international cricket now! To access GoCricket, just search "gocricket" in the search bar > Tap follow > Select Messages, and start the fun!