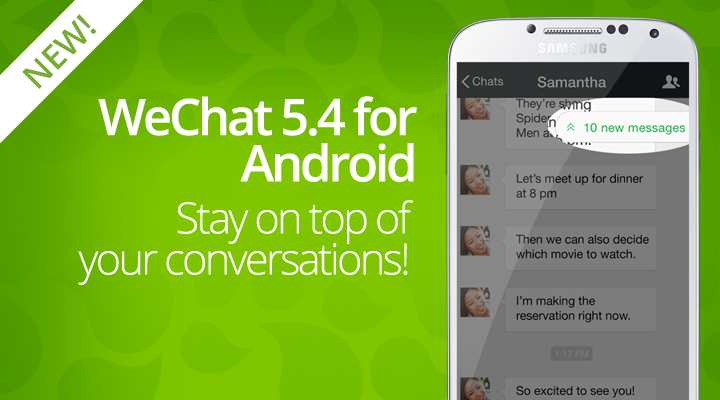 Today, we're excited to announce the release of – WeChat 5.4 for Android! We've added a new bookmarking feature that takes you to the first unread message in any chat with just one tap. And with the new navigation, we've included a "Me" tab for you to easily customize your WeChat settings. So what are you waiting for? Get more out of your WeChat experience and upgrade to 5.4 for Android today.
Check out all of the new features below:
Last Read Message Bookmark: Miss a whole bunch of chat messages? Now you won't have to worry about being lost in a conversation again. After 10 or more messages, WeChat provides a handy "New Messages" notification.  Simply tap "New Messages" within a chat and you'll be taken to the start of your new messages to catch up.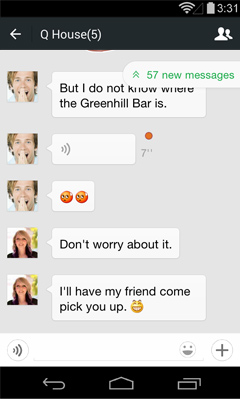 New Navigation and  "Me" Tab: How refreshing! We've changed the look and feel of our navigation menu and added a fourth tab. The new "Me" tab makes it easier for you to adjust your account and privacy settings, and customize your WeChat experience the way you want.
Improved Search: We've upgraded the search bar so you can easily find old messages in a heartbeat. Plus, you can search your contacts via tags! Say goodbye to endlessly scroll through your contact list.
LinkedIn Connect: Link your LinkedIn account to add your professional contacts as WeChat friends. In "Chats" or "Contacts," press the "+" button > Tap "Add Contacts" > Select "Mobile and Other Contacts." From there, you'll be able to connect with your LinkedIn account easily.
Contact Tags: Quickly search for contacts by adding a "Tag" entry in the "Contacts" tab.  Just tap "Tag" > Create a group tag > Then hit "+" to assign members that tag.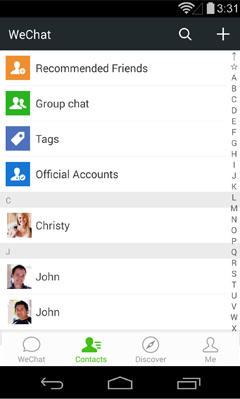 And for all the iPad users out there, you'll now be able to stay logged in to WeChat on both your Android phone and iPad.
We know you'll love the latest version of WeChat. So why wait? Upgrade to WeChat 5.4 for Android now.