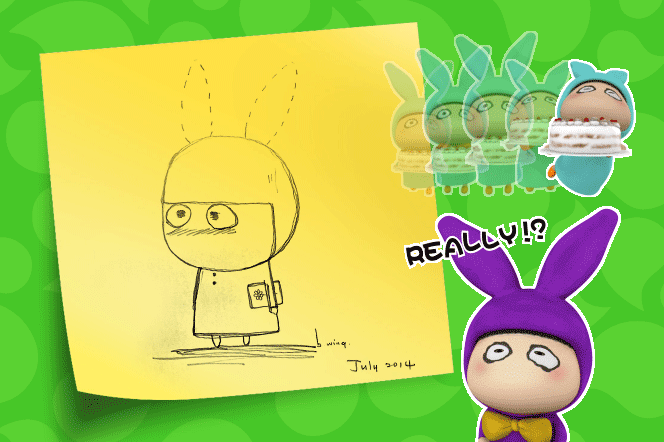 Stickers are the new black. They're a great way to chat with family and friends and express any emotion with just one tap. But at WeChat, we're not just creating average stickers. We're taking your emoji fun to a whole new level.  How? With animated 3D stickers of course!
For the first WeChat animated 3D sticker pack, we teamed up with talented Hong Kong illustrator b.wing to create "Boy A." Here's a behind the scenes look at what it took to bring this lovable character to life in 3D.
Inspiration
b.wing knew she wanted to create 3D stickers that reflected emotions people experience in everyday life. So every time she felt a certain way in her own life, she would sketch her feelings on post-it notes, her notebook, or any piece of paper she could get her hands on. Each sketch was unique with distinctive facial expressions and characteristics. Once she had all her ideas together, the bunny costume wearing Boy A was born.
3D Animating
Just like any creative process, she struggled.  Taking the next step from 2D animating to 3D animating was very difficult for b.wing.  She first had to transform her drawings into 3D graphics, while showcasing Boy A's full personality on a mobile platform and then edit the facial expressions and movements to suit the graphic.
But that didn't stop her!  Her succession in creating Boy A was all thanks to having a positive attitude and creatively putting her energy into bringing Boy A to life. Boy A has since gained worldwide recognition among hundreds of millions of WeChatters all over the world.
In love with Boy A yet? You can download him and more stickers in the WeChat Sticker Gallery!