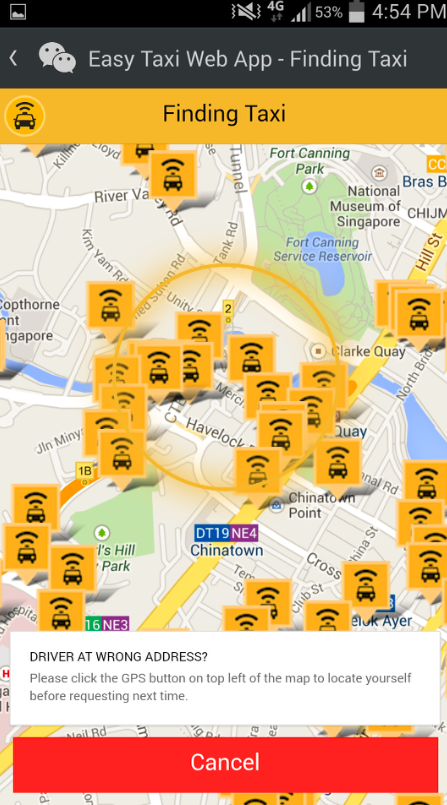 WeChat is excited to partner with taxi booking service, Easy Taxi, so no one has to endure the hardships of hailing a cab again. Users can instead book taxis directly in the WeChat mobile app with just a few taps. WeChatters simply follow the official account, "EasyTaxiSGP," and then click the button "Call Taxi." The service will be available first in Singapore and will then roll out in other countries where Easy Taxi and WeChat are used.
How are the mobile and taxi industries a perfect fit? We caught up with Jianggan Li, Co-Founder and Managing Director of Easy Taxi Singapore, for his perspective on the partnership.
WeChat: Why is the taxi industry looking to innovate with mobile? Why are taxis and mobile suited?
Li: Taxis enable people to move around and to be mobile. So being mobile is part of our DNA. We want people to be able to book a taxi easily while carrying on with whatever they're doing. They can see the driver's details and location, as well as communicate with the driver via mobile messaging. And at the end of the trip, they can easily pay for the ride through their smartphones.
WeChat: What benefits does partnering with WeChat provide for everyone involved in a taxi journey?
Li: We are both fast growing apps in the mobile and social scenes. On one hand, we offer WeChat users the ability to book their ride via Easy Taxi without having to exit the app. On the other hand, we are able to reach a wider audience through WeChat's fast-growing network of users. This will also offer consumers a fast and convenient alternative means to book taxis.
For the drivers, we provide additional ways to make more income. And through mobile bookings, they also get an opportunity to pick up passengers in areas where there is less traffic.
WeChat: How has the consumer reacted to mobile taxi services like this?
Li: Passengers and drivers have welcomed the app because of its usefulness and efficiency. Fares are booked based on proximity to the pick-up location rather than the operator of the taxi cab. Passengers benefit as the app gives them more options for cabs, increasing the chances of booking a ride especially during peak hours.
WeChat: How do you think mobile can impact the taxi industry in the future? What further services can be integrated or additional benefit can mobile bring?
Li: Users will be able to key in their credit/debit card and/or mobile wallet details into their Easy Taxi profiles through our cashless payment system. The details of the ride will be sent electronically, and the passenger can confirm the fare by simply tapping a button on their mobile.
There are many opportunities in the mobile scene such as tracking a taxi cab's status, including its location, speed, tyre pressure and fuel consumption. This data that can help operators better plan the taxi system in Singapore.
Ultimately…Incorporating the system into the mobile population creates a lot of interesting possibilities for us to explore.
For more about the announcement, visit The Next Web.