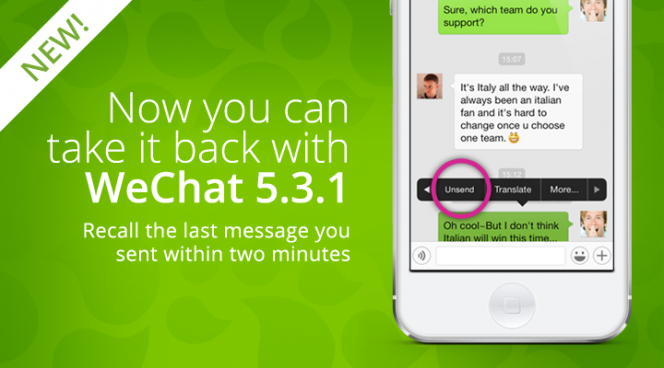 Announcing our new Message Recall feature on WeChat 5.3.1 for iOS and Android. Unsend any message sent within the last two minutes instantly. If both parties are upgraded to 5.3.1, just long press the message you would like to recall, tap the right arrow and select "Unsend." It's like it never happened.
Best of all, that's just one of the many new features we've added to make connecting with friends even easier. Check them all out below.
Tags for Contacts: Tag contacts with keywords like "Co-worker," "In-law" or "BFF" so you can find people faster – especially handy when creating group chats.
iOS: To start, go to the "Contacts" tab and select a name > tap the settings icon above > Press "Set Remarks and Tags" and insert keywords for the contact.
Android: In your "Contacts" tab, select a name > press the settings button (indicated by the three dots above)  > Select "Set Remarks and Tags" and insert tags for your contact.
Favorite Messages in Bulk: Save all your favorite messages into one package so you can quickly view them all without scouring them individually.
iOS: In your chat window,long press a message > Select "More" > Choose multiple messages > Tap the "Favorite Messages" icon below to save.
Android: Begin in your chat window and long press a message > Select multiple messages > Press "Favorite" save your selected messages.
Favorite Messages Preview: Before sending out a Favorite Message, you can preview messages to check for errors, or to just admire your handiwork.
iOS: Simply select a conversation > Press the "+" button > Tap "Favorites" > Preview and select a message to send.
Android: Start in a chat window and tap the "+" button > Select "Favorite Messages" > Preview a message before sending.
QR Code Picture Scan: Now you can scan QR codes directly from your image library.
iOS: Snap a pic of any QR Code and save it to your image library > Open up WeChat and choose the "Discover" tab > Select "Scan QR Code" > Press the "Album" button above > Select the picture from your image library and your photo will be scanned.
Android: Save an image of a QR code to your photo library > Open up WeChat and select the "Discover tab" > Press "Scan QR Code" > Tap "Album" > Select the QR code from your photo library to scan.
We've also upgraded the UI of the search bar so it's clean and easier to use. Not to mention, we've added notifications when a message fails to make sure all your important messages go out. And, when connected to Wi-Fi, your photos will automatically download. Say goodbye to the image loading bar.
More features means more fun and more efficiency on WeChat. Upgrade now to WeChat 5.3.1. for iOS or WeChat 5.3.1 for Android.