Our WeChat Sticker Gallery is constantly growing with new characters to love and share. To give you a glimpse into the lives of some of our newest fun and quirky stickers, we introduce to you Sticker Stories, exclusively for Chatterbox! Get to know the wide range of characters that make you smile, laugh and help you express your emotions.
Now gather around, it's time for a sticker story featuring the sassy Grandma Eul-nyoun!
Sitting in her rocking chair in her cozy Seoul, Korea apartment, Grandma Eul-nyoun may seem like an ordinary cookie baking grandma.  But that is where you would be mistaken! Ever since her son and his family grew up, she has ditched her usual hobbies of cooking, knitting and passing down words of wisdom to start anew. Now with an uncovered foul-mouth and crazy personality, nobody can stop this nana from doing what she wants, not even her husband, Grandpa Eul-nyoun.
On Fridays and Saturdays, it's off to the bars they go…
…where Grandma Eul-nyoun will drink shot after shot until there is nothing left but a headache and fuzzy memory. Her favorite is soju, so watch out if she has that drink in hand!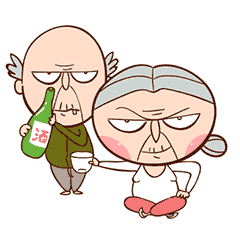 Her mad moves are sure to come out and she will inevitably take over the dance floor.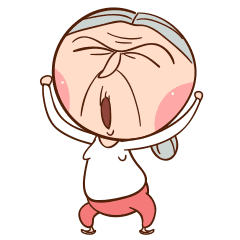 However, late-night partying does take its toll. She may not always make it back home, but will manage to find a random spot (like the park bench) to rest and recover.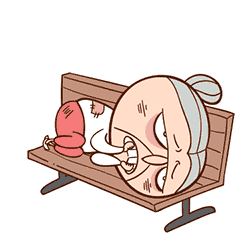 Despite her body not being what it used to be, she finds other ways to bounce back. One of her favorite remedies is a luxurious bubble bath and a full day of pampering at a local spa.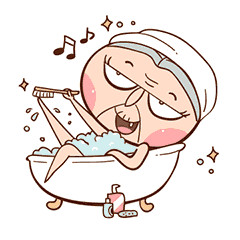 …Of course complete with an occasional makeover: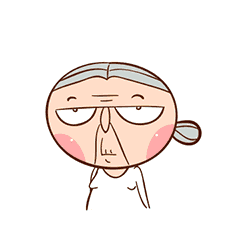 Sometimes her spa days are so successful, they rekindle a bit of romance between her and Grandpa Eul-nyoun.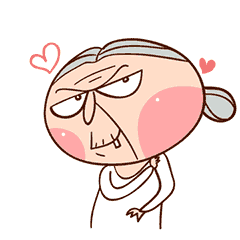 But alas, more time spent together means more time for arguments, which start like this: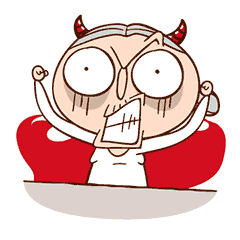 And end like this: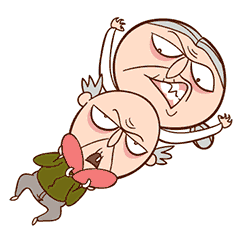 Of course they eventually make up, because under Grandma Eul-nyoun's sassy attitude is a heart of gold.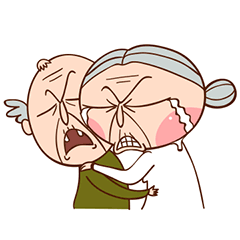 …It just so happens that heart comes with a wild side!
Want more Grandma Eul-nyoun? Add her to your sticker collection today and reveal your inner nana!